The Appliance of Science!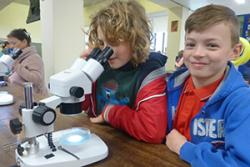 Cynan Roberts and Charlie Parry-Jones at a Hidden Worlds event. Bangor University's Science Festival is back for its seventh year and welcomes everyone to explore and discuss science through talks hands-on activities exhibitions demonstrations - all free to attend.
Taking place between March 11-19 2017, during British Science Week the festival grows every year and is a fantastic way for everyone to get involved and find out more about how science and research are helping to shape the world we live in for the better. Come and talk to the scientists who are investigating how to combat climate change or creating new drugs to help cancer patients, and engineers who are working on 5G, the next generation of mobile networks. Important research is taking place in Bangor and the Science Festival is a great opportunity to discover more about science.
The flagship opening-event of the festival is the Hidden Worlds Exhibition on Saturday 11th March between 10am and 4pm at the Brambell Building on Deiniol Road, Bangor. The laboratories will be teeming with hands-on activities, suitable for the whole family, like how scientists extract DNA from fruit, looking at specimens through a microscope, and even learning how to make slime. The day also offers tours of the incredible natural history museum that houses the famous 2 headed sheep, as well as the extensive aquariums; other rarely-seen parts of the uni, such as the microbiology and cancer labs will also be welcoming visitors. There will also be a chance to experience the amazing "Flash Bang" chemistry show, which is full of explosive fun for all the family.
Details of all the events this year are available on the web site, and for any further information please contact stevie.scanlan@bangor.ac.uk
Publication date: 7 March 2017