Young Chemists reveal secrets and win prizes at Festival of Chemistry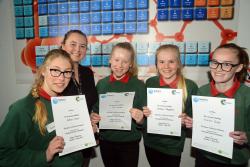 The winning Ysgol Tryfan TeamPupils from Ysgol Tryfan, Bangor were among eight teams of 11-13 year olds from across North Wales who enjoyed a fun-filled day in the Chemistry laboratories at Bangor University for this year's Salters' Festival of Chemistry.
During the morning the teams took part in a competitive challenge, "'The Mystery of the Missing Centenary Trophy" in which they used their analytical chemistry skills. In the afternoon, they competed in the "University Challenge", another practical activity involving problem solving by experimenting with cooling chemistry. This was followed by a flash bang lecture given by Techniquest, Glyndwr! The day ended with a Prize giving at which all the participants received individual fun prizes and certificates.
The Festival at Bangor University is one of a series of fifty-three Festivals which are taking place at Universities throughout the UK and the Republic of Ireland between March and June. The Salters' Festivals of Chemistry are an initiative of The Salters' Institute, whose aim is to promote the appreciation of chemistry and related sciences among the young.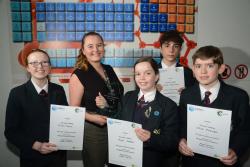 Ruthin School's winning team. All prize winners were:
The Salters Challenge
1st Ruthin
2nd St Brigid's
3rd Rydal Penrhos
University challenge:
1st Tryfan Girls
2nd Tryfan Boys
3rd Rydal Penrhos
Publication date: 1 June 2018