Prestigious scholarships awarded for MSc Tropical Forestry at Bangor University. Apply now!
Following an extremely competitive bidding process against other top UK universities, Bangor University's School of Natural Sciences (SNS) has been awarded 10 scholarships for its MSc Tropical Forestry (distance-learning). These scholarships are for exceptional scholars wishing to begin their studies in September 2019.
Awarded by the Commonwealth Scholarship Commission (CSC), these scholarships are exclusively for scholars from developing Commonwealth countries: Ghana, Guyana, Kenya, Lesotho, Malawi, Papua New Guinea, Tanzania, Uganda and Zambia. The scholarship includes international tuition fees, a study grant to help scholars with the costs of distance-learning study (such as internet data) plus a travel scholarship for a Tropical Forestry Study Tour in July 2021.
"It's an honour for our MSc to once again be awarded these prestigious CSC Scholarships", commented Course Director for MSc Tropical Forestry, Dr James Walmsley. "These distance-learning scholarships enable outstanding scholars to study for their MSc, whilst living and working in their own countries. Through their studies with us, students gain new knowledge, skills and ideas which can help to facilitate and improve sustainable forest management in many developing commonwealth countries".
"This is an outstanding distance-learning programme. A dedicated team of academic staff with a diverse range of expertise work closely to develop new and exciting teaching materials, with ever-greater use being made of e-learning technologies to enhance student learning, collegiality and academic rigour. One of our distance-learning students wrote to us recently and commented:
"The special thing about Bangor distance learning is that it goes together with real-world university lectures. One has the feeling to take part in something that happens physically and not just virtually."
We currently have a diverse body of students from research institutes, public and private forest management bodies, environmental NGOs and other related organisations from over 20 different countries. As part of the MSc we run a Tropical Forestry Study Tour, ensuring all scholars and the teaching team meet in person, get to know each other and get to discover and learn together in a tropical forestry environment. For many, this is the highlight of the programmeas it gives students the chance to work closely together to devise and conduct their own research project.
The School of Natural Scienceshas been running part-time forestry-related distance-learning courses since 2002 and the first intake of CSC scholars was in 2011. Since then, many scholars and graduates have become tremendous ambassadors for Bangor University and for the CSC. This is unusual because the vast majority of distance-learning students are people who would otherwise never have had the opportunity to study for a postgraduate degree.
Further information about how to apply can be found here.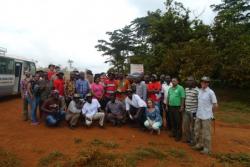 CSC scholars, staff and hosts on the MSc Tropical Forestry Study Tour in Ghana. © James Walmsley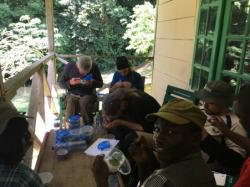 Analysis of field samples collected as part of the Tropical Forestry Study Tour. This group were investigating the level of predation on model herbivores in a range of different forest types © James Walmsley
Publication date: 14 February 2019