10 years of success – businesses come together to celebrate GO Wales at Bangor University
Over 50 businesses from across North West Wales came together at Bangor University last week to celebrate the 10th anniversary of business support and employability project, GO Wales. Also attending the event were a number of business support agencies from across the region as well as representatives from Bangor University who have all provided continuous support to the programme during the past decade.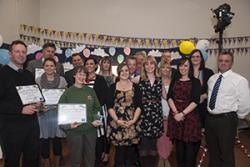 Award winners and staff from Go Wales and Bangor University at the Celebration.The GO Wales project supports students and graduates to find work experience whilst enabling local companies to access the higher level skills of students and graduates through a range of work experience initiatives, often leading to permanent positions for the individuals.
Funded by the Welsh Government and European Social Fund the GO Wales project is delivered by each University in Wales. The team at Bangor University have organised 560 high quality work placements for graduates with local businesses, over 400 work experience tasters and have approved 170 applications for funding to support the development of graduate skills within local businesses.
Becky Ryan, GO Wales Work Experience Manager at Bangor University said: "with the introduction of tuition fees and the difficulties generally in finding work, more and more pressure is placed on students and graduates to stand out from the crowd so a programme like GO Wales is instrumental in providing the framework to support these individuals when taking that all important first step on the Career ladder".
Chris Little, Head of Bangor University's Careers & Employability Service added: "Bangor University's GO Wales project has certainly made an impact with small businesses in the region and this has been a boost to both the local economy and to graduates in the region who are taking those first steps in their careers."
Four awards were presented by David Lea Wilson Director of Halen Môn to small businesses in North West Wales that had demonstrated dedication to the support and development of graduates in the region during the last decade:
Most outstanding contribution to work experience – Welsh Mountain Zoo
Best new provider of work experience - COFNOD
Most outstanding commitment to the GO Wales project – View Creative
The CADARN Skills Centre award for developing graduate skills - Outlook Expeditions
Accepting her award Sue Coleman, Education Officer at the Welsh Mountain Zoo said:
"It was extremely useful to have the extra help in the peak season for planning, preparing and running the Young Zoologist Days summer programme for unaccompanied children aged 8-12 years old."
"Lauren the graduate we recruited helped free up other members of staff to undertake activities and events which would not have been possible otherwise. This was very beneficial to the running of our program."
Design Agency View Creative has benefitted most from the support of the programme during the past ten years. Simon Cotton, Director at View Creative said:
"We were pleased to be able to offer several graduate placements. We benefited from high quality students with excellent grades and more importantly fresh ideas. As an SME in Wales, we felt it was important to be able to offer local graduates that all important work experience, setting them on the right foot for the real world of work after studying."
"What we found were some very high calibre graduates, who were keen to learn and develop their skills in the workplace. We were delighted to be able to offer permanent contracts of employment as a result of the placements".
Pictured above- not left -right are:
Award winners: Simon Cotton - View Creative, Roy Tapping - Cofnod, Sue Coleman- Welsh Mountain Zoo and Claire Hitchins - Outlook Expeditions, Bangor GO Wales Team: Becky Ryan, Lis Owen, Elinor Churchill, David Pritchard, Tess Cameron, Mererid Gordon and Lydia Richardson, Head of Careers and Employability Service: Chris Little, and Speakers and award presenters: David Lea Wilson- Halen Mon, and Bryn Jones and Katie Thomas from Cadarn Skills Centre.
Publication date: 27 September 2013