£1m EU boost for pilot project to exploit behaviour change research for industry
Deputy Minister for European Programmes, Alun Davies, has announced £1m EU funding for a pilot project that will pioneer cutting-edge research to help businesses develop new products, processes or services.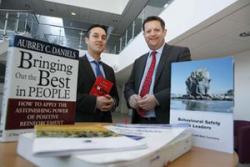 Dr Carl Hughes of the new Centre with Deputy Minister Alun Davies, following the announcementThe EU funding will help Bangor University exploit new research as part of their £2m pilot study to create the Wales Centre for Behaviour Change.
The aim is to establish a hub at the University to help businesses improve productivity and strengthen their supply chains by applying research in the field of behaviour change. It is expected that new products, processes and systems could be developed in areas such as health and safety as well as productivity and wellbeing in the workplace. The research will also encourage collaborations with businesses to develop products and services which could use mobile applications, gaming concepts or 3D visualisation, helping to boost their global competitiveness.
The Deputy Minister announced the funding while on a visit to North Wales to mark the first of four regional consultation events on the future Structural Funds and Rural Development Programmes 2014-2020 in Wales.
Deputy Minister for European Programmes, Alun Davies, said: "I am delighted that through our successful management of EU funds we are able to invest in activities that will pioneer research and innovation and help drive forward a smart and globally competitive economy in Wales.

"Looking ahead we are determined to maximise the impact of any future EU funding Wales receives and I encourage everyone to engage in this public consultation on how we will invest future European funds for jobs and growth.
Welcoming the funding, Bangor University Vice Chancellor Professor John G Hughes said: "This funding represents a major investment in Bangor University from the Welsh Government and a real commitment from both parties to conducting the best possible high-impact research in Wales. The School of Psychology has a long history of world leading behaviour change research, in domains such as healthy eating, behavioural disorders, parenting and education. This new project will build on Bangor's expertise to bring behaviour change science to bear on issues important to local business and to a sustainable society. The Wales Centre for Behaviour Change will establish a multidisciplinary team of experts who will work alongside local SMEs to the benefit of both academia and the local community. It is a very exciting and innovative project."
Bangor University's Dr Carl Hughes, Deputy Director of the Wales Centre for Behaviour Change project, said that research and development undertaken would be central to promoting increased productivity and profits for companies involved.
He said: "We are very excited about the Welsh Government's support in establishing this centre. It will bring together Behavioural psychologists, Sports Scientists, Engineers, Designers and Computer Scientists to help design behavioural solutions to real-world challenges. It will also engage the local community and businesses in the co-design of research.
"This centre is an excellent example of our increasing ability to translate world-leading research into practical applications to benefit both the local and Welsh economy."
One of the sectors likely to benefit from the scheme is the nuclear industry and its local supply chain of small and medium sized enterprises (SMEs) in the North West Wales region. It is expected that research into behaviour change could improve safety techniques, helping businesses with their operating practices and enhancing their competitiveness.
Another element of the project will see research applied through coaching employees in the workplace. The aim is to encourage a change in perspective which could lead to reduced absenteeism and promote greater productivity in both SMEs and larger organisations.
Individuals, SMEs, and other organisations with specific workplace challenges are invited to contact the centre for further information.
For more information or to get involved, please contact David Menichino, Business Development Manager, at: wcbc@bangor.ac.uk
Publication date: 1 February 2013