32 Bangor University students reach the summit of Kilimanjaro in aid of Mind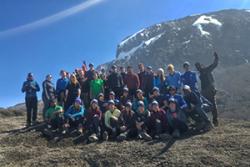 After a year of bonding and training, a group of 32 Bangor University students summited Mount Kilimanjaro together just after sunrise on the 9th September.
This arduous trek up Africa's highest peak at 5,895 metres above sea level was in aid of the mental health charity Mind, and the team have so far raised nearly £100,000.
Students leading the challenge were Tom Savory, from the School of Sport, Health and Exercise Sciences and James Grimont from Bangor Business School; along with delegate leaders Lydia Graham and Jacob Shaw who are studying Sports Science with Outdoor Activities and Business Studies student, Noah Williams.
Tom Savory said: "Mind was a personal choice of charity for James and myself. Many team members have either been directly affected by mental health issues or have committed themselves to helping others through fundraising and raising awareness.
"I have known three people who have taken their own lives, so for me, supporting Mind is a practical way that I can help other who may be affected by various mental health issues.
"The trek was the perfect metaphor for what we were trying to achieve. The difficulty and altitude meant everyone experienced extreme highs and lows. You go through some serious mental battles with yourself not to give in and ride the pain for a few more steps. The support from the guides, porters and the rest of the team is the only reason I got up there."
James Grimont said: "I wanted to raise awareness of the work that Mind does. I know that mental health issues can be difficult to comprehend but with the amazing effort the Bangor team have put in over the last year, we have been able to help many individuals that need the charity's support. By acting as a Challenge Leader for Choose a Challenge, I was able to develop leadership skills and self-confidence and grow as a person. The Kilimanjaro trek enabled me to pursue my love of hiking; and gave me greater motivation to take on similar endeavours."
Joel Allsup, Masters of Zoology student, said: "Preparing for the trek has helped me with my own mental health issues. I may not be able to have much of an impact on worrying matters such as global poverty and climate change, but by fundraising for Mind, I feel that my efforts will directly help others who need the charity's support.
"Like others in the team, I had to deal with altitude sickness, but as I approached the summit, I was overwhelmed with sense of accomplishment, not due to the physical strain and resilience it took to get there, but my own personal mental health motives to do this."
Jasmin Dobson, Psychology with Neuropsychology student, said: "Kilimanjaro was one of the most amazing experiences, despite being one of the most mentally challenging experiences I've ever had to do. Mind is such a brilliant charity and fundraising for it has taught me how important it is to spread awareness about mental health issues."
Megan Jones, who is studying Primary Education with QTS, said: "It was the most mentally and physically challenging thing I've ever done, but also the most rewarding."
Leigh Fuller, second year Geography student, said: "Mentally, the trek was the hardest thing that I have ever done, but when you reached camp at the end of the day you were filled with an overwhelming feeling of achievement and relief. Although there were some down moments, overall the experience was positive as we have all made unforgettable memories and lifelong friends."
Darcey Bradburn, third year Psychology student, said: "I was happy to fundraise for Mind, as the charity is close to my heart. Some of my family, including myself, have dealt with mental health problems in the past. It is nice to know that my efforts will help those who are dealing with their own mental health issues."
Jasmin Williams, third year Sports Psychology student, said: "The days before and after summit night were good, but the altitude got to me in the final ascent. Altitude sickness made everything worse, but watching the sunrise at Stella Point was definitely worth it, and with encouragement from the guide and my friends, I managed to get to Uruhu peak!"
Alfie Martin-Parsons, third year Zoology with Animal Behaviour said: "I climbed Kilimanjaro in memory of my cousin who took his own life. I hope that by taking part in this fundraising trek for Mind will help to create awareness of mental health but more specifically men's mental health."
Professor Carol Tully, Pro Vice-chancellor, said: "We are immensely proud of our students for completing this difficult challenge. Their efforts will help so many in need of the charity's support."
Lucy Lloyd, Senior Fundraising Officer at Mind Cymru, said: "We are so impressed with the hard work and dedication that the students at Bangor University have shown in conquering Kilimanjaro.
"We know that many of the students have had their own problems with their mental health and so to see them overcome this challenge while raising awareness of the importance of good mental health is a real inspiration.
"To raise close to £100,000 is an incredible achievement and we are truly grateful for their support. This money will make a real difference to all of us who need support when we need it most."
This trip was assisted through an award from The Bangor Fund. The Bangor Fund improves the quality of our students' university experience by supporting their education and development. Through, for example, travel bursaries, scholarships, sports provision or cultural activities, the wide-range of support provided by The Bangor Fund enables the University to deliver a 'margin of excellence.
For more information about the challenge or if you would like to donate, visit the team donation page. Donations on this page will be split fairly among all students fundraising for this trek and go to Mind. If you are looking to sponsor a specific student, please donate to their individual page.
Publication date: 10 October 2019