Assisting local adventurer on an endurance mountain challenge
A number of staff at the School of Sport, Health & Exercise Sciences (Dr Ross Roberts, Dr Stuart Beattie, Dr James Hardy, Dr Eleri Jones, Dr Anthony Blanchfield, Dr Andy Cooke and Kevin Williams) have been helping a local adventurer on a classic North Walian mountain challenge.
Local adventurer Huw Jack Brassington took on the Paddy Buckley Round back in the summer as part of a 5 part TV series, 47 Copa: Her Huw Jack Brassington (47 Summits: Huw Jack Brassington's Challenge, English subtitles), filmed by Cwmni Da which begins on Wednesday 6 November on S4C.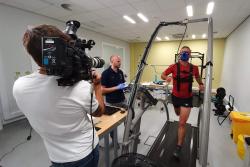 Huw in action in the School laboratories
The Paddy Buckley involves a continuous "round" over 47 peaks in Snowdonia, covering a distance of some 100km and climbing 8,000 metres (almost the height of Everest) all in 24 hours.
As part of his preparation for the challenge Huw visited the School in July and took part in some psychological and physiological testing in order to better understand how he might deal with fear, his ability to withstand pain, and his physical fitness
Publication date: 4 November 2019