Bangor means business at annual Careers Fair
In an increasingly competitive graduate job market, it's never too early for students to begin considering their career options.
Attending university is now about more than lectures and essays: it's also about preparing for the world of employment, and networking, work experience and a strong CV are all key tools in any student job hunter's arsenal.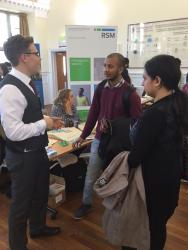 At Bangor Business School, the annual Careers and Employability Fair offers students a vital opportunity to develop these competencies and to get a head-start on their graduate job search.
Held at Bangor University's Management Centre on 12th October, students from all levels of study were given access to regional and national recruiters representing a range of career paths, including accounting, the civil service, recruitment and marketing – many of whom had graduate schemes, internships and job vacancies to promote.
Explaining the importance of such events, Clare Brass, Employability Co-ordinator at Bangor University said: "Careers Fairs provide invaluable opportunities for students to learn about career pathways and options, connect with employers and recruiters and get the inside scoop on industry requirements and recruitment techniques.
"Having all that expertise under one roof is not only inspiring, but can really boost students' confidence when it comes to job applications and stepping into the professional world".
Aiming to add more value to the traditional jobs fair, the Bangor Business School event also offered a CV clinic, specialist breakout sessions and a Q&A panel with former students, giving the current cohort a valuable insight into graduates' journeys from the classroom to the boardroom.
Perhaps the most exciting feature was the Recruitment Game, in which shortlisted students undertook a series of Apprentice-style challenges for the chance to win a paid internship or work placement with one of three local businesses: 75point3, Dafydd Hardy and Zip World.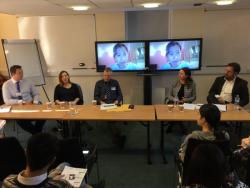 Alumni panel - L-R: Ross Starkie, Oana Lazar, Mr David James (panel chair), Tan Bich Ngoc (via Skype), Fiona Anderson, Dr Edward Jones
"As a research driven institution, our programmes draw upon insightful and expert analysis of important issues and relevant debates", commented Professor Jonathan Williams, Head of Bangor Business School. "This – alongside our collaboration with local, national and global business partners on events such as our Careers Fair – provides our students with a competitive advantage that will enhance their employability."
Bangor Business School wishes to thank all the participants:
75point3
ACCA
Bloomberg
Gwasanaeth Gyrfaoedd a Chyflogaeth, Prifysgol Bangor / Careers and Employability, Bangor University
CCI Legal
Chartered Banker Institute
CIMA
CIM
Coleg Cymraeg Cenedlaethol
Cyngor Gwynedd Council
Dafydd Hardy
Hays
Mandarin Consulting
Mills & Co
Bwrdd Uchelgais Economaidd Gogledd Cymru / North Wales Economic Ambitions Board
Yr Awyrlu Brenhinol / RAF
RSM
Santander
Ysgol Addysg, Prifysgol Bangor / School of Education, Bangor University
Williams Denton
Zip World
Alumni: Fiona Anderson, Dr Edward Jones, Oana Lazar, Tan Bich Ngoc, Ross Starkie
Publication date: 4 November 2016