Bangor's elite athletes awarded Sports Scholarships
Every year, Bangor University supports students with sporting ability by offering a number of Sports Scholarships for students studying for a degree in any subject area.
These Sports Scholarships are awarded to recognise and support sporting excellence and achievement. They are aimed at helping talented and high-performance students to combine their academic study and sporting performance to assist them in achieving their full potential.
Richard Bennett, Director of Commercial Services, said: "We are very pleased to support a number of highly talented athletes at Bangor University. We keep investing in up-to-date equipment to attract top athletes to the university. The athletes will also benefit from the expertise of staff at the School of Sport, Health and Exercise Sciences.
"Since the University developed a partnership with Rygbi Gogledd Cymru (RGC) 6 years ago, talented rugby players identified by RGC have been able to progress into higher education whilst being able to continue to play rugby at high level and remain in north Wales, thanks to the Sports Scholarships. This partnership has now developed as we are offering scholarships to female RGC players"
This year saw 14 students receive scholarships totaling £25,000 for a wide range of sports. The students to benefit from this year's Sports Scholarships are: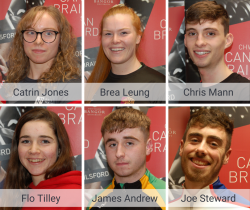 Michael Farmer, 20, from Caerphilly – Weightlifting
Catrin Jones, 20, from Bangor – Weightlifting
Molly Nixon, 19, from Southport – Sailing
Octavia Owen, 20, from the Wirral – Sailing
Sam Rogers, 20, from Wrexham – Rugby
Joe Steward, 23, from Middleton, Manchester - Cross Country

Flo Tilley, 22, from Nottingham – Climbing
Brea Leung, 27, from Caernarfon – Rugby
Joshua Whitehouse, 18, from Welshpool – Judo

Theo Schoebel, 20, from France – Karate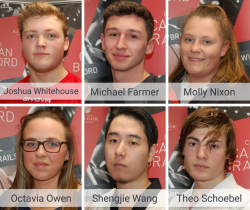 Aled Williams, 18, from Llanrug – Football
James Andrew, 18, from Llanfair PG – Rugby
Shengjie Wang, 23, from China – Taekwondo & Kungfu
Chris Mann, 19, from Ruthin – Cycling
Reigning Welsh Seinor Weightlifting Champion and recipient, Catrin Jones, said: "Bangor University have supported me for a number of years. I first received a local bursary before receiving the Sports Scholarship as a University student. The sports facilities at Bangor are top class and have helped me develop my training massively throughout the years. The staff at Canolfan Brailsford and at the School of Psychology have been very supportive throughout the years."
Recipient Octavia Owen, said: "The Sports Scholarship has given me the opportunity to expand my sailing alongside my fitness, improving it greatly. It has allowed me to compete at more national level events which has enabled me to improve my international ranking.
The scholarship programme is part of a wider commitment to raise the profile and reputation of the University through sport.
Publication date: 26 February 2020