Bangor's expertise sees John reclaim the joy of speech
Innovative specialisms at Bangor University have meant that a man who lost his voice following cancer treatments two years ago is now able to communicate in his own synthetic voice.
The second episode of the DRYCH series on S4C on Sunday, 28 April, features the story of former University staff member, John Wyn Jones, from Beaumaris, and the efforts of the Language Technologies Unit at Canolfan Bedwyr, Bangor University's Centre for Welsh Language Services, Technology and Research, to create a synthetic voice for him. The project was developed in partnership with Betsi Cadwaladr University Health Board.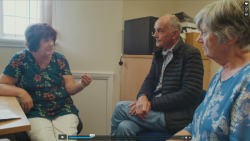 (From left) Delyth Prys, John Wyn and his wife, Nan. Image: Ffilmiau Twm Twm

Having earned a living as a spokesperson for the University and being an active participant of a cymanfa ganu at his local chapel, it would be fair to say that the voice has had an important place in John's professional and personal life. In leisure, too – in particular by following Everton football club, stemming from his upbringing as part of Liverpool's Welsh-speaking community. When he and his wife, Nan, understood that specialisms relating to synthetic voices were being developed by the Language Technologies Unit, a few yards from John's old office, she decided to contact the Unit.
The Language Technologies Unit's 'Lleisiwr' program is a piece of software that creates a Welsh synthetic voice based on a corpus of sounds that are specific to the language. The development of the program was sponsored by the Welsh Government and the purpose of the project is to create personal synthetic voices for patients who are due to lose their ability to speak as a result of conditions such as Motor Neurone Disease and throat cancer. By using a computer, phone or tablet, 'Lleisiwr' enables patients like John to type a message in their preferred language and play an audio clip of the message in their own unique synthetic voice.
The process is web-based, with patients recording text provided to them in the form of prompts for each language. In John's case, the ability to record the text had already been lost but, using audio clips from the family archive and contributions from a family member to the 'Lleisiwr' program, the Unit's software engineers and linguistic experts set about recreating his voice.
Featured in the documentary are the Head of the Language Technologies Unit, Delyth Prys, alongside the Unit's Principal Software Developer, Dewi Bryn Jones, and the Technology and Systems Advocate, Stefano Ghazzali. Delyth, when discussing the 'Lleisiwr' program and the development of John's voice, said:
"We were so pleased to be able to help John Wyn and those other patients who have lost the ability to speak. When Nan first contacted us, we thought it was too late to help John, and it is much better to be able to record a patient before they lose their voice. But with the help of old video and audio clips and another family member, we managed to create a voice that sounds quite like John. We hope to do more research in this area to improve the technology and help more Welsh-speaking patients."
For more information about the 'Lleisiwr' program, please visit https://lleisiwr.techiaith.cymru/?lang=en.
'DRYCH: Achub Llais John' will be shown at 9pm on 28 April on S4C.
Publication date: 24 April 2019