Bangor students forging links with local businesses
Students at Bangor University are benefiting from the University's links with local businesses. Outdoor tourism company, Celticos, based in the Felinheli has been working closely with staff and students to provide multilingual content for its website as well as employing students to enable the company to provide tailor made packages for tourists.
The company was set up two years ago by Managing Director Alwyn Griffith and offers unique tours of the north Wales area to provide visitors with a closer connection with local people and culture. Alwyn said,
"We work with a number of companies to enhance the experience for our customers but the relationship we have built with staff and students at the University is especially valuable to our company. We have been able to benefit greatly from the knowledge and skills of Bangor's students to develop and improve our company so that we offer something that's distinctive and exciting."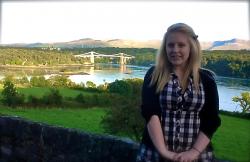 Kayla Jones
Kayla Jones from Asheville, North Carolina is studying Creative and Professional Writing at Bangor. Kayla has a passion for travel writing and is currently working as an Intern at Celticos giving them an insight into what students want when visiting the area for the first time. She said,
"I am keen to learn about how running a tour is developed, marketing a tourism company and managing a website. Alwyn interviewed me and made sure I was the right fit, and right now I am working with him to develop travel tips for students on the Celticos website. Since I started at Bangor, I have loved the local history and outdoor opportunities that the area provides, and I love that through this internship I can promote North Wales to students."
"This particular internship is helpful to me in what I want to achieve in a career, but on a basic level this experience will be helpful in the future for me as well. I'm learning to strengthen things such as public speaking, team work, time management and interviewing skills."
Meanwhile students from the School of Modern Languages at the University have been putting their multilingual skills into practice by translating the Warm Welcome statement on the Celticos webite into several languages including Spanish, Italian, German, Dutch, Galician, Mandarin, Russian and French.
Danielle Goody who's studying a degree in History with Italian valued the experience,
‪"I was able to gain useful experience in this field of work and techniques for my upcoming exams. It also enabled me to expand on a number of necessary skills such as attention to detail and research skills. It was a great opportunity."
While Danielle translated the statement into Italian, Joshua Maunder who's studying French and Spanish with Italian translated to Spanish and Katherine Edwards a French with Italian student, translated the piece into French. Katherine said,
"It was a good opportunity to practise translation outside of my academic studies. It was interesting to translate for a local company."
The University's International Education Centre has also provided translation services using their International Student Ambassadors. Students are able to use their practical experience as points towards achieving the Bangor Employability Award.
Bangor University has a long-standing track record for delivering high quality and award winning business support and Alwyn hopes to continue working closely on a number of projects in the future that will benefit both the company and students. He added,

"We have a number of exciting projects in the pipeline. For example we hope to work in conjunction with Visit Wales to offer training to Bangor's Chinese students so that they can be employed by us to give guided tours of the area in their native language."
Celticos is one of the companies that have also benefitted from the language training offered by the TILT project at Bangor University. Read more about Alwyn's experience on TILT's Introductory German course here:
Publication date: 13 May 2015