Bangor Students Pitching for Victory
For the third year running three teams from Bangor University, comprising Consumer Psychology masters students and Business School students have reached the finals of the Brolio/The Pitch 2014, which take place on Tuesday 18th February. Brolio/The Pitch is organised by the Chartered Institute of Marketing and part funded by the Welsh Assembly Government and gives students the opportunity to 'pitch' their ideas in a prestigious marketing competition.
The finalists 'Pitch Perfect' consists of three Consumer Psychology and Business Masters students from Bangor University. The team name was inspired by the film 'Pitch Perfect', a movie focused around team work and achieving a common goal, which is also a film favourite of all three team members - Elin Holbeck from Norfolk, Alison Talbot from Dublin and Louise Ainsworth from Bedfordshire. All three members have a solid background in psychology having al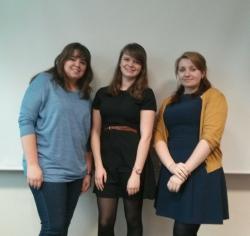 l completed their undergraduates in the subject at Bangor specialising in decision making & schadenfreude; educational psychology and neuropsychology. By combining their specialist knowledge, and by taking inspiration from their education on Nudge and Behaviour Change, their pitch aims to demonstrate how you can nudge people towards a preferred outcome in an often simplistic, and cost-effective, manner backed up by psychological research.
Louise said:
"As a group we are really looking forward to applying what we have learnt during our Masters to a potentially real project and we are really excited to share our enthusiasm of Nudge and Behaviour change with individuals who may not have much experience of the concept. Whilst we all have had a good chance to practise our presentation skills during our University education so far, The Pitch will give us a chance to develop our skills of PechaKucha presentations and will allow us to experience presenting to a small, expert panel. As a group we are also really looking forward to meeting other students in different educational fields, improving our employability through this experience, and being representatives for Bangor University."
They were among the 12 teams of three students from further and higher education in Wales pitching their ideas to a brief set them by Cynnnal Cymru-Sustain Wales. The teams have to respond to a detailed brief and consider budgets, messaging and marketing tools in their presentations, showing their understanding of a real-life business scenario.
Prof James Intriligator, a Consumer Psychologist at the University's School of Psychology said:
"Employability is a particular focus of the University and skills such as those gained in taking part in this event will be of great benefit to the students when they apply for jobs after leaving University. This is a great opportunity for our students to display their expertise and creativity and to get real hands-on experience in all aspects of marketing. I know that the students have already learned from the experience."
The three Bangor teams will be among the 12 teams delivering a three minute pitch to a panel of judges. Three teams will be selected to make it to the very Final round, and will have the opportunity to deliver their pitch in front of a larger audience in The Senedd in Cardiff Bay.
Marketing Lecturer Sara Parry of the University's Business School, who mentored two of the Teams from the Business School commented:
"Brolio/The Pitch is an excellent experience for students who wish to pursue a career in marketing. The brief they are sent is exactly the same as one which would be issued to a real marketing agency and is an opportunity for the students to showcase their creativity and strategic thinking in front of industry experts. Taking part in this event is a great opportunity to gain hands-on marketing experience and is invaluable for improving students' employability"
Publication date: 13 February 2014