Bangor Students represent Community Engagement projects in the House of Commons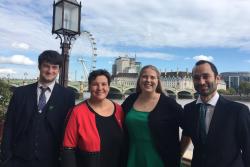 Pictured left-right are: Osian Evans; Tonia Antoniazzi MP; Hannah Jones and Rubén Chapela-Orri.A group of Bangor University delegates delivered recently a presentation in the House of Commons in Westminster on the All-Party Parliamentary Group on Modern Languages. The event was chaired by Tonia Antoniazzi, MP for Gower, and attended by other MPs and representatives of the House of Lords, British Council, European Commission, Goethe Institut, Confucius Institute and other institutions and universities from across the UK.
Tonia Antoniazzi MP said "I am very proud to chair the meeting which showcases the outstanding work that is going on in Wales to enthuse and inspire our future generations to learn a foreign language".
Under the title of "How university projects can have a positive impact on MFL engagements in schools and the wider community: Wales shows the way", Professor Claire Gorrara (Cardiff University) introduced Routes into Languages Cymru and the MFL Student Mentoring Project, as the Academic Director of both projects.
Lucy Jenkins (Cardiff University), Meleri Jenkins (Cardiff University) and Rubén Chapela-Orri (Bangor University) presented the work that is taking place in universities across Wales, inspiring pupils to study languages and continue to higher education. This event also provided an opportunity to debate more widely the issues currently faced by foreign languages across the education sector.
Paul Kaye, from the European Commission, said: "It was an inspiring APPG meeting on the response in Wales to declining take-up of languages in schools, including the MFL Student Mentoring project and Routes Cymru's Ambassador scheme."
MFL Mentors, Mentees and Language Ambassadors from Bangor University, Cardiff University and Ysgol Gyfun Cwm Rhymni had an opportunity to share their experience in these projects. Students Osian Evans and Hannah Jones represented Bangor University.
Osian Evans is a fourth-year student of Law with French, who has been working as a Student Language Ambassador (SLA) for Routes Cymru since he first started his degree at Bangor University. He has already reached more than 20 schools in north Wales (GwE consortium) by visiting their pupils, blogging on his third year abroad , or taking part in events delivered for primary and secondary schools.
He said: "My overall impression of the scheme is a very positive one. It's highly gratifying to be able to talk about a subject that I find dear to me and seeing the results. According to the forms that we give out at the end of the talks, we've never had a negative impact. It has always been either neutral or positive."
"During one of my talks, the pupils were asking numerous questions and I did my best to answer all of them, one of the pupils who had said had no interest in languages was asking the most pertinent ones. In his form at the end, he said he would definitely be taking a language."
"It was an honour being able to participate in and witness this meeting that brought together people from all over the UK in order to discuss the possible future of languages in GCSE's and A-levels. It also revamped my commitment to the program."
Hannah Jones is now doing an MA in Translation Studies, was a Routes Student Language Ambassador since her second year at Bangor University, she was blogging on her third year abroad, and became an MFL Mentor in her 4th year, successfully mentoring pupils in Ysgol Uwchradd Caergybi and Ysgol Syr Thomas Jones on Anglesey. This year she will be mentoring two more schools as Chief Mentor.
She said: "When I first arrived at Bangor, I had no clue what I wanted to do in the future, only that it had to involve my true passion: languages. Having worked with Routes and Mentoring I have had so many wonderful opportunities to engage younger pupils in discussions about languages, and even parents at options evenings. I have found myself developing more confidence and excitement with languages than I ever thought possible."
"I think these schemes are fantastic! It was a great opportunity to speak to people that you might ordinarily not come into contact with, and offer your own and listen to alternative views. These projects are very effective. Not only they start a dialogue, they get people thinking about languages in a new way and I hope instilled an excitement about them. From my experience, just going and giving a talk about my language journey and the skills you develop through learning languages sparked interest in the pupils. You could see it in their faces."
"It was so wonderful to see so many people in support of languages at the APPG, listening to and engaging with one another. It was fantastic to be able to show how the projects have worked and continue to work. I'm very grateful for the opportunity."
Rubén Chapela-Orri, Routes Cymru Coordinator in north Wales and Bangor Departmental Lead for MFL Student Mentoring project said:
"I believe the success of these projects is explained by their collaborative and a multidisciplinary approach to promoting language learning, as well as by the never-ending enthusiasm of our SLAs and Mentors! It is great to see that schemes like these are portrayed as an example of best practice not only in Wales, but also in the rest of the UK. Pupils in Wales usually do not realise that being bilingual offers an enormous advantage when it comes to learning other languages and become more aware of what being a global citizen means. It was a great honour and privilege to represent the important role that Bangor University, in partnership with other universities and institutions, plays in changing the future of MFL in Wales by engaging with the community, and I feel tremendously proud of our students Hannah and Osian for representing on the day their outstanding work with schools."
Publication date: 24 October 2018