'Bangor team' member wins Wales' first Commonwealth Gold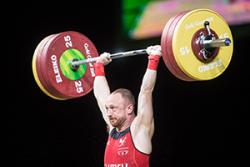 Wales' first Gold medal in the Commonwealth Games has just been secured by one of Bangor University's Commonwealth Games team.
Gareth (Gaz) Evans, a member of Bangor University staff working at the University's Canolfan Brailsford, has just secured gold in the men's weightlifting in the 69kg category, lifting 299kg.
A Sports Assistant at the Sport Centre, Gareth Evans has competed numerous times at World level. He competed at the London 2012 Olympics and is one of the few people to have produced a double body weight snatch in Olympic Weightlifting. He moved up a body weight to compete at the Commonwealth Senior Championships in Penang, Malaysia in October 2016. Gareth's total resulted in an overall bronze medal, silver medal in the snatch and maintained his number 1 ranking in Great Britain over two weight classes.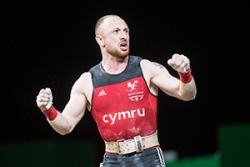 Gareth is one of six athletes from Bangor University who are out in the Gold Coast representing Wales.
In the weightlifting squad with Gareth are Seth Casidsid, a Psychology graduate who works at Canolfan Brailsford. Catrin Jones, a Psychology student and Harry Misangyi a Sports Science student and Hannah Powell, a Sports Science graduate, who works for Welsh Weightlifting, who are based at Canolfan Brailsford.
Also representing Wales is current British National Squash Champion, Tesni Evans, who trains at Bangor University and is ranked #12 in the world. She plays on the professional world tour wearing a Bangor University branded shirt.
Richard Bennett, Bangor University Director of Sport and Commercial Services, said: "We are very proud and honoured to support our six athletes competing in the Commonwealth Games, and are of course, delighted at Gareth's success- we now have a Gold Medal winner on our team at Canolfan Brailsford!"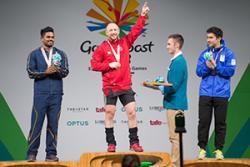 Prof Carol Tully, Pro Vice Chancellor (Students) said: "Being able to boast six athletes in Team Wales is a huge honour for the University and reflects the investment we have made in supporting our own students and the sporting community in North Wales. Our newly opened Platfform81 gym proved to be the preferred training venue for the Welsh weightlifting team in their preparations for the Gold Coast, and we are delighted at Gareth's win!"
See also:
http://www.bbc.co.uk/sport/commonwealth-games/43666774
http://www.itv.com/news/wales/2018-04-06/weightlifter-gareth-evans-is-the-first-competitor-to-win-a-gold-medal-for-wales-in-the-commonwealth-games/
https://www.bangor.ac.uk/sport/news/strong-bangor-university-contingent-at-2018-commonwealth-games-34936
Publication date: 6 April 2018