Bangor University announces Honorary Fellows for 2016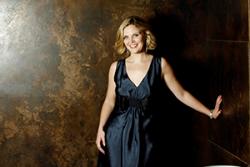 Opera singer, Elin Manahan-Thomas is among the individuals receiving an Honorary Fellowship at Bangor University this summer.The highest-ranked female in the British Armed forces, an international rugby referee and an opera singer are among those receiving Honorary Fellowships at Bangor University (11-15 July).
Major General Susan Ridge, Director General Army Legal Services, was appointed to the rank in 2015, becoming the highest ranking female within the British Armed Forces. She is in charge of 130 lawyers. Susan Ridge graduated from Bangor University with a History degree in 1984. She is to receive an Honorary Fellowship for services to Law.
Nigel Owens, widely regarded as one of the best rugby referees in the world, is to be honoured for his services to rugby.
Elin Manahan-Thomas, the leading British soprano of her generation will also receive an Honorary Fellowship for her services to music.
These three individuals are among 14 new Honorary Fellowships awarded to individuals who have made an important contribution in their chosen fields, whether in industry, business, public life or the arts. Each will join the University's own graduating students during one of the degree ceremonies taking place 11-15 July, to receive their award.
Professor John G Hughes, Vice-Chancellor of the University said:
"We are proud of the achievements of all our graduates and celebrate their success, especially those who will graduate this year. Our graduation ceremonies also provide an opportunity for us to take pride in the success of others in our community or to honour those who have a close relationship with the University. Their success sets a great example for our students."
Also being awarded an Honorary Fellowships are:
Ruth Hussey CB OBE, who until her recent retirement from the post, was Chief Medical Officer and Medical Director NHS, Wales. She is to be rewarded for her services to Medical Sciences.
Rhian Huws-Williams, Chief Executive of the Welsh Care Council, is to receive an Honorary Fellowship for her services to social work. Following gaining her first degree and professional social work qualification here at Bangor University, Rhian Huws-Williams has over 30 years' experience in the social services field in Wales.
Glyn Watkin Jones of local development and construction company Watkin Jones & Son Ltd is to receive an Honorary Fellowship for his services to industry. The company can trace its history back to 1791 and was responsible for laying the foundation stone of Bangor University in 1907. Watkin Jones & Son Ltd was owned and managed by the founding family, with Glyn as Chairman, up to its successful floatation on the Alternative Investment Market on 23rd March this year.
Sculptor, John Meirion Morris is one of Wales' most eminent sculptors. A mark of his status is that a total of eleven of his busts of famous Welsh people are now held in the National Library of Wales' arts collection. Amongst his most well-known works relating to Bangor University are his bust of Emeritus Professor Gwyn Thomas, the bust of late Professor Bedwyr Lewis Jones which stands at the entrance to the Prichard Jones Hall at Bangor University and, most recently, the bust of Bob Owen, Croesor, which can be seen in the University's Shankland Library. John Meirion Morris is to receive an Honorary Fellowship for services to the arts
Father and daughter, J.O Roberts and Nia Roberts are to attend together to receive Honorary Fellowships. Broadcaster Nia, who is a familiar and regular presenter on S4C, for her contribution to broadcasting and father, actor J.O. Roberts, for his contribution to drama. J O Roberts has acted on the stage and screen as an amateur and then as a professional actor, after taking early retirement from the Coleg Normal.
Among those receiving honours are people with close links with the University. These include:
Professor Merfyn Jones, CBE, former Vice-Chancellor of Bangor University, for services to the University. An historian specialising in modern and contemporary Welsh history, Professor Jones has made several TV documentaries. He joined Bangor University in 1990 as a senior lecturer in history. He became head of the School of Welsh History in 1993 and was appointed to the Chair in Welsh History in 1994. He served as Dean of Arts and Social Sciences for two years before being appointed Pro-Vice Chancellor in 1998. He was appointed as the sixth vice-chancellor of the University on 1 August 2004.
Professor John Porter, an internationally renowned scientist who collated an important part of the latest Intergovernmental Panel on Climate Changes (IPCC AR5 Food Security and Food Production Systems) report, will receive an Honorary Fellowship for his services to science. John Porter, who is a Professor at both the University of Copenhagen and the University of Greenwich, graduated from Bangor University in 1976 and gained a PhD in 1981.
Another Professor who gained his doctorate at Bangor University in 1973, Professor John Wingfield of the University of California, is to receive an Honorary Fellowship for his services to Science
Professor Wingfield is an environmental endocrinologist at the University of California and an influential figure in US research funding. In 2011 he became the National Science Foundation Assistant Director for the Directorate of Biological Sciences.
The Governor of the Central Bank of Bahrain His Excellency Rasheed Mohammed Al Maraj will also visit Bangor University to receive an Honorary Fellowship for his services to banking. H.E. Rasheed Mohammed Al Maraj has been Governor of the Central Bank of Bahrain (CBB), since January 2005. As Governor, H.E Al Maraj carries ministerial ranking and is the chief executive of the CBB, which is responsible for ensuring monetary and financial stability in Bahrain. The CBB is also the single regulator of Bahrain's financial services industry. HE Al Maraj is also a Board member of the Bahrain Institute of Banking and Finance, of which Bangor University is a contributing learning partner.
Publication date: 25 April 2016