Bangor University lecturer honoured for contribution to education in botanic gardens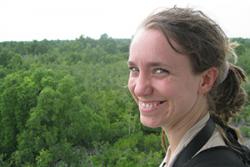 Dr Sophie WilliamsDr Sophie Williams, a lecturer in conservation at Bangor University, has been awarded the Marsh Christian Award for Education in Botanic Gardens.
Awarded by The Marsh Christian Trust in collaboration with Botanic Gardens Conservation International, the award goes to an early or mid-career individual who has made an outstanding contribution to promoting public awareness of the importance of plants or undertaken important education activities within a botanic garden.
Prof Stephen Blackmore, chairman of Botanic Garden Conservation International says: "I have enjoyed working with Sophie at the Royal Botanic Garden Edinburgh and in China – I have never met anyone quite like her in energy, drive and commitment to a good future for planet Earth. She becomes an instant friend of everyone she meets and is an unstoppable force for positive change in the world."
Head of School of Environment, Natural Resources and Geography, Prof Morag McDonald, said "Sophie is an exceptional communicator and educator. Bangor students have benefited hugely from the passion and dynamism she brings to her teaching. She has also run highly regarded training course for students in Mauritius (for the Durrell Wildlife Conservation Trust), Cambridge (for the Cambridge Student Conference of Conservation Science), China (for Xishuangbanna Tropical Botanical Garden) and Bangladesh (for Rajshahi University). It is fantastic that her contribution to conservation education worldwide is being recognised by this award"
Wang Ximin, head of education at Xishuangbanna Tropical Botanical Garden, says: "Sophie did so much for improving XTBG's, even China's, environmental education in botanical gardens. With Sophie's help, XTBG could sent its staff to visit UK's botanical gardens, including Treborth. From 2013, she has developed and run a 2-week annual course training educators in Chinese botanical gardens. About 77 educators from 33 botanical gardens and other organizations graduated from the course. "
Sophie was unable to attend the award ceremony at the Royal Botanic Gardens, Edinburgh, as she is unwell. She fell ill with Japanese Encephalitis when on a research and education trip to China in July. She remains seriously ill in hospital and all her colleagues, friends and students at the university are wishing her well.
Sophie's father Mike Williams says "Sophie continues to make small improvements but her condition remains very serious. Even now she needs intensive care and is being cared for at St James' hospital in Leeds".
Sophie has been passionate about botanic gardens since coming to Bangor University as an undergraduate and volunteering at the University botanic garden at Treborth. As Sophie's academic interests developed she embraced botanic gardens world-wide; for example her award winning research on the conservation biology of Aloe polyphylla, a highly threatened endemic succulent from southern Africa, stemmed from information and support gained from the botanic garden community both here in the UK and southern Africa. She went on to obtain an MSC in conservation science through a programme linked to the Royal Botanic Gardens at Kew before returning to Bangor for a PhD looking at the role of botanic gardens in international plant conservation. Following her PhD she worked at the Royal Botanic Garden, Edinburgh, spearheading a public education project highlighting Ash-die back disease.
In 2013 Sophie returned to Bangor as a lecturer in conservation and once again focussed on botanic gardens as a portal for good conservation practice and education and established a significant link with Xishuangbanna Tropical Botanical Garden in China which involved considerable public education in both China and Wales through the 2 dragons garden project. She also established reciprocal internships for horticulturists and students culminating in the involvement of Bangor students in the visit of the Duke of Cambridge's visit to XTBG earlier this year.
The Marsh Christian Trust was established in 1981 and runs a portfolio of prestigious awards which recognise the contribution of dedicated individuals working in different sectors – to improve the world we live in.
Publication date: 23 October 2015