Bangor University Lecturer to receive UK Teaching Award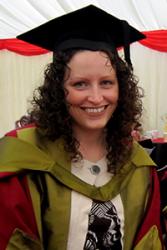 Dr Fay Short of Bangor University's School of Psychology has been made a National Teaching Fellow. This is the most prestigious award that can be made to recognise excellence in higher education teaching and support for learning. Dr Short was the only academic in Wales to be made a Fellow this year.
Dr Short joins Dr Charles Buckley of the School of Education as the second member of Bangor University to receive this Award.
Awarded by the Higher Education Academy, the National Teaching Fellowship Scheme recognises and rewards excellent learning and teaching and is funded by the Higher Education Funding Council for England (HEFCE), the Higher Education Funding Council for Wales (HEFCW), and the Department for Employment and Learning in Northern Ireland (DELNI).
Dr Fay Short said: "I am delighted and honoured to receive this award. Bangor University has been phenomenal in supporting my development as a lecturer and the excellent Teaching Team in the School of Psychology has provided me with fantastic opportunities to develop my innovations in teaching. I am looking forward to working closely with the National Teaching Fellows of the Higher Education Academy to share my ideas about inspiring effective learning and further enhancing my own teaching practice."
Alongside her role as lecturer and research supervisor across the undergraduate and postgraduate programme, Dr Fay Short adopts numerous additional roles and responsibilities. At a departmental level, she is the Director of Undergraduate Studies in Psychology. At an institutional level, she is the internationalisation champion for the College of Health and Behavioural Sciences and an honorary counsellor with the Student Counselling Service.
Fay is also passionately committed to her own professional development. Alongside her academic qualifications in Psychology, she holds a PGCert for Post-Compulsory Education and a PGCert for Higher Education, has completed TEFL training, is an accredited learning coach with the Welsh National Assembly, and is currently completing a second Masters in Educational Studies. Fay firmly adheres to the old adage that learning never stops, and her determination to continually enhance her own development through formal training and reflective practice contributes to her success as a teacher.
Fay's teaching philosophy focuses on the dual streams of inspiration and encouragement, and her work seeks to excite students about learning, support those experiencing difficulties, and contribute to the development of effective teaching throughout the sector. This philosophy has developed during her extensive experience of learning in a variety of settings: postgraduate and undergraduate in universities and pre-tertiary levels in schools and colleges. In particular, experiences teaching 14-16 year-old pupils after they had been excluded from school provided her with an insight into the importance of support and inspiration.
In recognition of her success, Fay has received the highest accolades available for teaching at Bangor University: the Teacher of the Year Award at the Student Led Teaching Awards in 2012 and a Bangor University Teaching Fellowship Award in 2011. She is widely recognised as a teaching expert and regularly in demand by colleagues looking for advice and guidance on effective teaching methods: in the words of one who attended such training: "I am learning so much from you, not just the content, but how to teach, how to inspire, and how to do all of this with a smile."
Dr Short will receive her Award at an Awards event in October this year. Up to 55 awards of £10,000 are made to recognise individual excellence. The award is intended for National Teaching Fellows' professional development in teaching and learning or aspects of pedagogy.
The Award is open to all higher education institutions and further education colleges in England, Northern Ireland and Wales who have more than 100 FTE students and are funded by HEFCE, HEFCW, or DELNI.
Publication date: 27 June 2013