Bangor University students get ready for the LifeStart challenge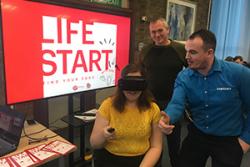 Jenny Light-Hook experiencing VR equipment with Samsung and Virgin representatives.Bangor University is one of only 12 universities taking part in LifeStart – a new challenge platform developed by Virgin Money and Virgin StartUp. LifeStart aims to help students find their edge and achieve greater career and financial success by helping them learn critical enterprise and financial skills through participation in prize-winning Challenges.
For the first challenge, LifeStart has teamed up with Samsung and is asking students how Virtual Reality can make a positive difference to university life.
Paul Adams from LifeStart, along with Jason Mills from Samsung recently visited the University to introduce students to this exciting new platform and the current challenges. Students had the opportunity to learn how to use virtual reality and try out the latest Samsung kit.
For the second challenge, students need to pitch an app that solves a student money problem.
For a chance of winning amazing prizes, such as Samsung mobiles and VR kits or Virgin experiences and cash, students need to come up with solutions of how to address these challenges by uploading a 3-minute presentation video and describing their ideas in a 300 word submission.
LifeStart's Paul Adams said: "We're delighted that Bangor University is involved in this challenge and is certainly one of the most enthusiastic universities I've been working with. Not only will students learn essential enterprise skills in an engaging format, they will also be able to enhance their CVs and LinkedIn profiles."
The LifeStart social media campaign is led by university students, and Jenny Light-Hook, a third-year Primary Education student has been selected as a Digital Ambassador.
Jenny said: "I heard about the amazing opportunity to become a LifeStart Digital Ambassador through my internship at B-Enterprising Bangor. I saw an opportunity to become an ambassador for the platform, for which I had to tell Virgin why I'd be a good ambassador and complete a challenge for something I've always wanted to learn. I took on the challenge of learning calligraphy, so I taught myself using guide books, pens and hours of practice, and I shared my learning journey on social media, encouraging others to start now on something they've always wanted to do and spread the word about LifeStart.
"I promote the platform through all forms of social media including Facebook, Instagram, Snapchat and Twitter. Being an ambassador means digitally promoting LifeStart and attending events to spread the word, as well as advocating the platform as much as possible. This is easy for me as I genuinely think it's a fantastic opportunity for anyone involved. In terms of helping my skills and employability, I've been able to learn vital marketing and promotion methods and work out what works well, as well as develop my thinking and creative skills to come up with new and fresh ideas in order to spread the word.
"Working with LifeStart has helped me become more enterprising and think critically about overcoming issues and solving them with well thought out ideas and concepts, as well as building my confidence to present to unknown people and learning to network with important contacts!"
Publication date: 30 November 2017