Bangor University unveil new 3G pitch at Treborth
A new state-of-the-art 3G pitch built to replace two grass sites that were often waterlogged was opened recently (16 October) in the presence of Bangor University staff, Athletic Union clubs and representatives of local teams and national bodies.
The new pitch is located at the University's Treborth Playing Fields and replaces two natural grass pitches used for football and rugby. These grass pitches often suffered from surface water issues, resulting in BUCS and Athletic Union activities having to be cancelled and re-arranged. The new pitch will enable fixtures to be played throughout the season and will also be available for use by local sport teams, such as the recently-established Bangor 1876 football team, and squads within WRU and FAW structures.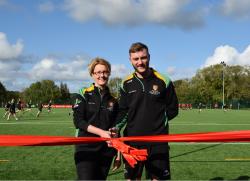 PVC Prof Carol Tully and AU President, Henry Williams

3G pitches incorporate third-generation ('3G') synthetic pitch technology. Surfaces on these pitches are made up of synthetic grass with a mix of sand and rubber infill. This gives the unique texture of natural grass, but provides an even and smooth playing surface compared to the varied terrain of a muddy pitch.
The official opening was undertaken by Professor Carol Tully (Pro Vice-Chancellor, Education and Student Experience) and was followed with two BUCS fixtures. Bangor University's Men's Rugby Union team played against their University of Chester counterparts and Bangor University's Women's Football team hosted the University of Manchester.
The development of the new pitch was welcomed by the Athletic Union President, Henry Williams:
'This is something the student body is incredibly excited about and I look forward to a full season of fixtures to be played on this new pitch. In the past, we'd had to cancel a number of our fixtures due to issues with the old grass pitches but the technology behind this artificial grass means that we can host matches all year round with ease.'
Also at the official opening was Bangor University's Director of Commercial Services, Richard Bennett, who commissioned and led the development of the new pitch. He said:
'This is an exciting addition to the facilities we have at Bangor University and will allow students, local clubs and representative teams to play on an ultra-modern surface and with the Menai Suspension Bridge as a unique backdrop. Not only does this latest development add to the student experience here at Bangor, it also adds to the sports provision of the area and the wider region.'
For more information on the 3G pitch at Treborth, please contact Canolfan Brailsford.
Publication date: 17 October 2019