Behaviour Change helps Sustainable Social Enterprise of the Year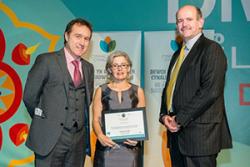 Menna Jones, Chief Executive of Antur Waunfawr, receiving the Award at the Cardiff ceremony with (left) Rhodri Thomas of Cynnal Cymru, hosts for the evening and Mat Roberts of Interserve, sponsors of the Award.A local social enterprise has won a national award with the support of an innovative research centre. Antur Waunfawr was presented with the Sustain Wales Sustainable Social Enterprise 2015 Award at a ceremony in Cardiff. The enterprise was encouraged to apply for the award following a successful project with the Wales Centre for Behaviour Change at Bangor University to create an Impact Report.
'We enjoyed working with the Centre for Behaviour Change' stated Menna Jones, Chief Executive, 'The Impact Report gave us the starting point for our successful application for the Sustain Wales award.'
Researchers Elizabeth Woodcock and Hong Chun Tan from the Behaviour Change Centre at the School of Psychology, involved staff and adults with learning disabilities at Antur Waunfawr to design the Impact Report and its content. The use of photographs, easy to read text in Welsh and English and a touchscreen version of the Report all made it easier for everybody to get involved. In June this year the Report was launched by the workers at Antur Waunfawr themselves and introduced by Professor Jerry Hunter, Pro Vice Chancellor at Bangor University, at Antur Waunfawr's Warws Werdd site in Caernarfon.
David John has worked with the Antur since its beginning, over 30 years ago, and said of the launch: 'I introduced my part of the Report, and talked about my work in the Warws Werdd. The touchscreen version is great!'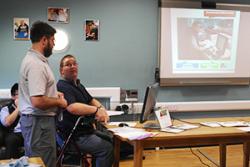 David John with Haydn Jones, presenting Antur Waunfawr's Impact Report.The Sustain Wales Awards are in recognition of the great things people and organisations are doing on sustainable development. The winning organisations had to complete a two-stage process, firstly by explaining their contribution to Wales' national well-being goals and then by gaining public support in a national online vote. Antur Waunfawr was selected from over 60 applications for the shortlist of 26 in the first stage and then won the public vote in its category of Sustainable Social Enterprise of the Year.
More information on the Awards and the national well-being goals can be found on the Sustain Wales website http://www.cynnalcymru.com/ and more information on Antur Waunfawr's work and a copy of the Impact Report can be downloaded from http://www.anturwaunfawr.org
Publication date: 27 November 2015