Bubble Challenge for Enterprise by Design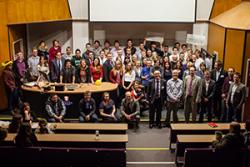 Student participants of Enterprise by Design, having presented their projects during the Final.Enterprise by Design 2014 culminated recently with student teams pitching their ideas to a panel of judges and an invited audience. Dr Zigs Extraordinary Bubbles, a toy manufacturer based in north Wales set the challenge: design new packaging for their extraordinary toys.
A national retailer expressed interest in distributing Dr Zigs products, subject to redesign of the packaging. Enterprise by Design (EbD) provided a quick, creative way to produce a diverse range of designs for consideration.
Working in 12 multidisciplinary teams, 60 students from Psychology, Electronic Engineering, Product Design and Business, have collaborated with Dr Zigs to create and develop packaging solutions. Students gained first-hand experience of working on a live, commercial project. Dr Zigs received a fresh perspective on their product and packaging designs with input from academic experts.
The students displayed their proposed designs and advertising brochures in a trade fair style show after pitching.
Paola Dyboski-Bryant of Dr Zigs was on the judging panel and after deliberating said to the students 'you did an amazing job .. you really had us talking in there. There was innovation and creativity in every single one of your designs'.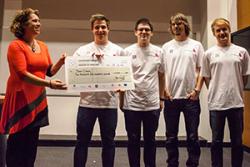 Paola Dyboski-Bryant from Dr Zigs Extraordinary Bubbles presents a cheque to winners, Team Crocus, who are:(l -r) Sam James, Bogdan Pop, Jordan Burns and Rory Robson.The winning Team Crocus comprising Jordan Burns, Rory Robson and Bogdan Pop received an award of £2,500 for their 'Bubble Towers' design with second prize of £1,000 going to team Orchid and 3rd prize of £500 going to team Sunflower. Judgements were based around the packaging which best communicated the product use through the form.
A package of 'Hothaus' start-up support, incubation and advice will also be made available to the winning team and scope to work with Dr Zigs in the future.
Rory Robson, the Psychology student of the winning team, said:
'EbD was a refreshing change to the academic side of university life because I got to apply my skills and creativity to a real life situation. Each week provided interesting insights into a range of different areas to do with the design process of transforming ideas into reality. I finished the journey with a project I was very proud of and lots of new friends that I made along the way.'
Business student of the same team, Bogdan Pop, said:
'I consider that the factors which secured us first place were that we thought about all aspects of the product, made time to meet with the client, developed a functional prototype that respected the business concept, created a website, business cards and team t-shirts and put in lots of effort and enthusiasm'.
It's wonderful to see alumni of the programme return as successful professionals, acting as consultants and helping judge proposed ideas. Matt Kennedy, on the judging panel but also a previous winner of Enterprise by Design and now Senior Design Engineer at Unilever said:
"Taking part in Enterprise by Design as an undergraduate helped me achieve my role at Unilever by showing the value of multi-disciplinary collaboration and clarity of communication. It was an absolute pleasure to return as an expert judge with such an exciting brief."
Dr Andy Goodman, Director of the Pontio Innovation Hub, said:
'Enterprise by Design has been developed over the last five years to exemplify how students, business, academics and members of the local community can work together to create value, by design. The commitment and creativity demonstrated by all participants has been incredible'.
The Enterprise by Design delivery team are excited at the prospect of next year's sessions being delivered in the brand new Pontio innovation Hub and believe that EbD will provide a positive contribution. The new space promises to provide a fitting backdrop and complement the ethos of the programme. Hear an explanation from Dr Andy Goodman on how EbD is now seen as the central activity for the innovation hub in Pontio .
Academic specialists delivering the programme were: Dr Iestyn Pierce from Computer Science & Electronic Engineering, Dewi Rowlands, Product Design, School of Education, Dr Andy Goodman, Director of the Pontio Innovation Hub, Dr John Parkinson from Psychology and Dr Siwan Mitchelmore from the Business School. Also delivering was Chris Walker, the Enterprise Support Programme mentor who provides support to Bangor University students and graduates to develop their ideas and who will be facilitating the Hothaus sessions. A group of Bangor student lawyers helped the students to form their team agreements courtesy of Dr Pedro Telles from the School of Law. Lowri Owen and Ceri Jones from the B-Enterprising Programme in the Careers and Employability Service coordinated the programme.
Postgraduate students who acted as team facilitators include Abhinav Dubey, Ben Smith, Elin Holbeck, Lesley McCarthy, Louise Ainsworth, Mehran Rafiei, Oliver Raspin, Patricia Carbone, Sam James, Sebastien Combret and Sion Edwards.
Judging on the panel were: Dewi Hughes of Pontio, Matt Kennedy, of Uniliver, Paola Dyboski-Bryant, of Dr Zigs Extraordinary Bubbles, Dave Noddings of DMM International Ltd, Phil Nelson of Surflines and Jon Owens of GreyPixel Design. A panel of junior judges were also present giving their reactions to the designs. The Junior Judges choice was awarded to the winning team Crocus.
Students completing the programme earn 25 Bangor Employability Award (BEA) xp.
Enterprise by Design was recently showcased by the Carnegie Trust's report in 'The Welsh Dragon' in their article on 'Exchanging Evidence on Enterprise Education'
Hear the EbD process explained
The EbD programme is funded through the Pontio Innovation Hub.
Publication date: 2 May 2014