Celebrating the Employability of Bangor University Students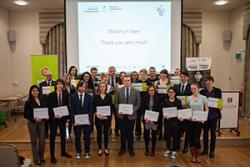 Bangor University's annual Employability Celebration evening was recently held at Reichel Hall to congratulate and showcase students who have taken part in employability enhancing activities at the University, and demonstrated exceptional commitment to investing in their personal development.
The event, which was attended by staff, students and employers, was an opportunity to award Employability Excellence Awards to students nominated by various members of staff across the University. This year saw the introduction of new award categories, including 'Intern of the Year' and a Students' Union Employability Excellence Award.
Congratulations to the award winners:
College Excellence Award Winners:
College of Arts and Humanities: Siwan Catrin Jones (Creative Studies and Media)
College of Business, Law, Education and Social Sciences: Maxime Aumaitre (Law) and Meinir Owen (Education)
College of Health and Behavioural Sciences: Franziska Kreutner (Psychology)
College of Natural Sciences: Lara Pritchard (SENRGy)
College of Physical and Applied Sciences: Kathryn Howard (Electronic Engineering)
Intern of the Year: Benedict Blackledge (Ocean Sciences)
Intern of the Year Runner Up: Mark Barrow (History)
Students' Union Employability Excellence Award: Luke Bidder (Education)
BEA Master Award: Si Jing Tan (Psychology)
The evening was also an opportunity to award the Santander Universities Excellence in Enterprise Awards to students who have taken part in University enterprise events and competitions throughout the year.
The final award of the evening was the Employer Engagement Excellence Award, awarded to Horizon Nuclear Power for their commitment to helping develop Bangor University students' employability. This award follows the signing of a Memorandum of Understanding between Horizon Nuclear Power and the University in January 2015, and the recent nomination for the AGCAS Award at the Target Jobs National Graduate Recruitment Awards for employers who who provide outstanding support for careers services' work with students and graduates.
On receiving the award, Richard Foxhall, Stakeholder Relations Manager for Horizon Nuclear Power said "I'm absolutely delighted and very proud to receive this Award on behalf of Horizon. We're absolutely committed to growing our workforce locally, and recognise that employers in all sectors look for more than academic qualifications. Employability skills are extremely important, and investing in developing students to help them better prepare for employment is essential. Opportunities not just with Horizon, but also in the wider low-carbon electricity sector and the supply chain will be very significant, and we fully recognise the business need to support Bangor University and the wider education sector locally to help develop our future workforce."
During the event, students also presented interesting and diverse reflections about their experience of developing their employability at University. Student presenters were Laura Jager (Law), Lara Pritchard (Geography), Andrew Leavers (Computer Science) and Paula Noon (Product Design). The Bangor University Enactus Team also presented their progress on their social enterprise project for Bangor, Y Bont.
See the full album of photos on the Bangor Employability Award Facebook page:
Publication date: 16 May 2016