Celebrating Women's Work in Music
Elin Manahan-ThomasTwo classical music concerts at Bangor University's Pontio are set to be the highlight of the First International Conference on Women's Work in Music (4-7 September) celebrating the achievements of women musicians. The Conference has been timed to mark the 40th anniversary of the death of Grace Williams (1906-77), one of the first professional Welsh composers of the 20th century to attain international recognition.
The concerts on Monday, 4 September in Neuadd Powis at 5.45pm and Wednesday, 6 September at 7.30pm in Pontio's Theatr Bryn Terfel will feature Grace Williams's music and also include world premieres by leading British composers Nicola LeFanu and Eleanor Alberga.
Ensemble Cymru's Monday evening Landmarks concert showcases some of the finest chamber music by female composers. Pride of place goes to Grace Williams's Sextet, a rarely-performed work, which includes a prominent part for trumpet - the Welsh composer's favourite instrument. The Ensemble are joined by baritone Jeremy Huw Williams for the world premiere of Nicola LeFanu's The Swan.
Internationally acclaimed Welsh singers Elin Manahan Thomas and Jeremy Huw Williams make their Theatr Bryn Terfel debut, accompanied by American pianist Paula Fan, for On Wings of Song on Wednesday 6 September. This innovative concert features music by female composers across the ages – from 11th-century Hildegard of Bingen's exquisite Caritas Abundat to Grace Williams's My Last Duchess and current Master of the Queen's Music, Judith Weir's electrifying King Harald's Saga. During a Pre-concert talk at 6.15pm Elen ap Robert and Geraint Lewis discuss the work of the composer Dilys Elwyn-Edwards and other female composers of her time. The discussion will be in Welsh with simultaneous translation, and will be streamed live on the web.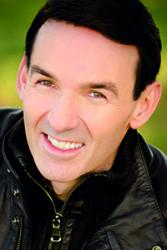 Jeremy Huw WilliamsDr. Rhiannon Mathias, Lecturer at the School of Music, and the Conference Organiser, said:
"We're delighted to be hosting this Conference exploring the work of women musicians. Our two concerts give music lovers an opportunity to sample the wide range of music under discussion, everything from the medieval to the modern era.
"We have papers from academics, practitioners, funders, broadcasters and journalists, who, as well as discussing a particular focus on Welsh musicians and composers, are also contributing insight into the contributions made by Maori, Taiwanese and Middle Eastern women, in widely differing musical spheres."
"Other Conference highlights include a PRS for Music Panel and a Music Industry Panel chaired by Deborah Annetts, CEO of the Incorporated Society of Musicians, discussing the situation for women musicians in today's global music industry. Prior to this panel discussion, Edwina Wolstencroft will talk about her work as Editor of International Women's Day on BBC Radio 3."
Prof. Chris Collins, Head of the School of Music, said:
"This is the first international conference on the very important topic of women's work in music, and we've been bowled over by the response we've had from across the world. We're proud to be hosting the conference in Bangor, and we're really pleased that we've been able to open some of the highlights to the general public."
In addition to the concerts, two other exciting Conference events are also open to the public. On Thursday, 7 September at 11am in Neuadd Powis, virtuoso violinist Madeleine Mitchell –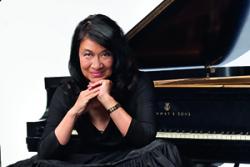 described by
The Times
as 'one of Britain's liveliest musical forces (and) foremost violinists' – will give the world premiere of Grace Williams's Violin Sonata, accompanied by pianist Konstantin Lapshin. The recital in Neuadd Powis will be followed by a performance at 12 noon by Welsh National Opera of Williams's rarely heard
The Lovely Gift of the Gab
, a work originally written in 1965 and described by the Arts Council of Great Britain as 'an anthology of Welsh prose and poetry from the sixth century to the present day, to the accompaniment of music'.
Further details about the First International Conference on Women's Work in Music can be found at http://wwm.bangor.ac.uk/
Tickets for the Landmarks and On Wings of Song concerts are available online www.pontio.co.uk or by phoning 01248 38 28 28 or calling in at the Box Office.
Publication date: 21 August 2017