Drapers' Medals Awarded to outstanding students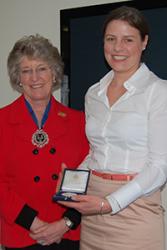 Rosie Poynor receives her Drapers' Medal from Master Draper: Lady Victoria Diana Leatham, DLTwo students at Bangor University have been awarded prestigious Drapers' Medals recently.
The Medals were awarded by the Drapers' Company, one of the historic Livery Companies of the City of London, and now a philanthropic organisation. A handful of medals are awarded each year. The Awards are made to outstanding students, based on academic achievement and engagement with the academic community both at the University and internationally, as well as cultural and social contribution through scholarship, impact of research, pastoral support and mentoring.
Rosie Poynor, a PhD student at the School of Sport, Health & Exercise Sciences received a Silver Medal for her academic work, which is expected to impact on sporting performance through improving sports coach education and performance, and for her input to the education of her fellow students.
Rosie is in the final year of her PhD part-funded by Sport Wales. The PhD is a challenging applied project in the area of coach behaviour change. Rosie's innovative approach will provide a best practice model for the entire field. It is expected to significantly impact on the rigour of intervention research within sport and exercise settings and enhance the quality of future coach education.
The PhD project has been presented as a best practice example of curriculum-based knowledge transfer from University to external organisations at a European Commission of General Education Conference. Rosie has also developed a full online learning course accessible to sports coaches worldwide and has presented her research at numerous international conferences.
In addition to this, Rosie has made an outstanding contribution to the University by engaging in a number of activities that are above and beyond normal expectations for postgraduate students.
Rosie is a committed and active member of the School's Institute for the Psychology of Elite Performance, the premier research group for performance psychology in the world. Rosie is collaborating independently with other postgraduate members of IPEP on additional research projects outside the area of her PhD. Such independent work is a testament to Rosie's abilities as a PhD student.
Rosie is also a Module Coordinator, lecturer and project supervisor, providing an excellent standard of teaching and support for any student that she works with.
Her sport psychology consultancy and intervention research with Welsh sport coaches and elite and junior athletes, as well as those across the UK and abroad alone make her an excellent ambassador for the University. She worked as a volunteer Sport Psychology consultant with Rygbi Gogledd Cymru's Academy and Under 18 teams for 18 months. Her work formed the foundations of a now established partnership between the University and the rugby club which assists to retain high level athletes in North Wales. Rosie formed and now manages an Applied Practice Group for Developing Sport Psychology Practitioners in North Wales and the North West. This group now meets for two day events, two to three times a year again assisting to raise the profile of the University within Sport Psychology research and consultancy.
Dr Nichola Callow, Dean of the College of Health & Behavioural Sciences commented: "Rosie is an excellent representative for the School via her work with coaches across Wales and her Sport Psychology consultancy work with a number of local elite level athletes. Rosie is an outstanding student who has been a real joy to work with and supervise. We are very proud of her accomplishments thus far, and are excited to watch her progress over the coming years."
A Drapers' Company Bronze Medal was awarded to Helen Glanville from the School of Environment, Natural Resources and Geography. Helen has recently been awarded her PhD in the field of environmental science. Helen's work has contributed significantly to our understanding with specific relevance to of how environments, including the agricultural Welsh landscape, will respond to climate change.
Having graduated in Geology from Birmingham University and then worked in the oil and gas industries and as a teacher in South Korea, Helen then decided to study at Bangor University.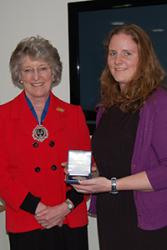 Helen Glanville receives her Drapers' medal from Master Draper: Lady Victoria Diana Leatham, DLHelen's academic achievements have been of the highest quality and she quickly demonstrated a natural aptitude for research. During her studies, she had five research papers published in international academic journals and presented her work in Australia. While studying, she also had the opportunity to visit the Arctic Circle to study climate change at the place where it is having the most environmental effect. She loved the experience and now has a desire to visit the Antarctic to complete the pole-to-pole experience.
Helen has helped many other PhD students with their work, providing them with invaluable support and guidance in their studies. At the start of her PhD, she organised a 'Greenhouse gas monitoring group' so that staff and students and researchers at the Natural Environment Research Council's Centre for Ecology and Hydrology, co-located on campus, could share experiences about the best and worst ways to measure CO2 and methane emissions from soil. She has also taken it upon herself to organise social events throughout her PhD, further bonding the team.
Having been involved in teaching previously, Helen has also contributed to undergraduate teaching, so that she could inspire the next generation, by providing a high quality experience for the students. Helen also provided the technical support for the Undergraduate Field Tour to Tenerife.
Commenting on the Award, Prof Carol Tully, Pro Vice-Chancellor (Students) said: "Helen seems to be one of those rare people who can maintain a sense of humour even in times of adversity and who is always willing to help others in their hour of need. She is a great asset to the University and the medal is a well-deserved reward for her efforts."
The Drapers' Company has been linked to the University for over a century, initially through substantial grants towards the construction of some of the University's main buildings including the library, science laboratories and the electrical engineering department. Currently, the Company supports undergraduate and postgraduate students in various Schools and Faculties, and contributes to a postgraduate hardship fund providing modest support for individuals' living expenses.
Publication date: 6 June 2013