EESW Awards 2020
Teams from two North Wales schools working with the School of Medical Sciences have won national awards whilst taking part in STEM Cymru's EESW Project. This annual event is run to encourage Year 12 students to consider a STEM career by giving them a positive experience working with professional scientists and engineers.
We were asked to work with two teams, one from Alun School in Mold and the other from Ysgol David Hughes in Menai Bridge, and to set a project brief related to a real problem for them to research and produce a final report. Bagged pre-washed produce are a popular choice for busy amateur cooks, but the image of fresh salad leaves being cleansed in sparkling running spring water is far from the reality of industrial baths containing a chlorine solution. A potentially dangerous scenario is one where antibiotic resistant E. coli take up residence amongst a person's healthy gut flora increasing the risk of life-threatening sepsis. The teams were set the challenge to investigate the potential scale of this problem using common microbiological techniques.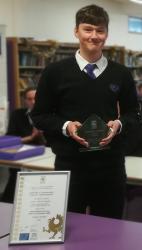 Over several months and under the guidance of their mentor, SMS Research Officer Helena Robinson, they designed their investigative approach and conducted experiments both at school and in collaboration with Helena. Unfortunately, only Ysgol David Hughes managed to fit in a visit to our laboratories before the arrival of the pandemic but both teams successfully completed their projects and submitted written reports to a panel of assessors. Teams from across Wales competed for a range of awards and we were delighted that the Welsh Government Education Directorate adjudged the team from Alun School to be the winners of the Best Application of Science award, and that Stephen Cowley from Ysgol David Hughes was announced as the winner of the EESW Student of the Year Award 2020.
We'd like to congratulate all members of the Alun School and Ysgol David Hughes teams for two projects completed to a very high standard. We have no doubt that they all have a bright future in science. Our participation in this project was possible thanks to the close cooperation between of our research scientists and lecturers, and we are grateful to STEM Cymru for the opportunity to give these young people a flavour of what it's like to be a professional microbiologist tackling a realistic public health investigation.
Publication date: 8 January 2021