Ensuring access to Welsh Music for people living with dementia
L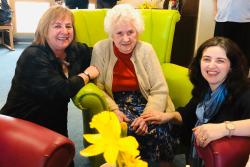 Care home residents in Aberystwyth have been enjoying music that has a personal resonance for them at a special event ahead of Welsh Language Music Day on February 8th. istening to your favourite music lifts your spirits, whatever your age. That's why Bangor University and Merched y Wawr are launching an appeal on the Welsh Language Music Day, for people to get in touch and suggest their favourite Welsh language songs from all times.
The most popular suggestions will be collated to create a free digital CD and downloadable resource, which will be shared free of charge to care homes and dementia care homes to ensure that Welsh music is available to residents enjoy.
Dr Catrin Hedd Jones, a Chartered Psychologist at Bangor University's School of Healthcare Sciences, who is leading the project said:
"We know that music from our youth can encourage happy memories and feelings. Recent research in Wales shows that much work remains to be done to ensure that people working in care homes recognise and respect the Welsh language culture of their residents. It's essential that we work together to ensure that Welsh-speaking individuals can enjoy their favourite songs when being cared for at home or in a care home. This is the latest phase of work on dementia done by Bangor University with Merched y Wawr, and I would like to thank all of our partners that have come together to make sure that we are able to develop this resource."
Dr Catrin Hedd Jones visited Hafan y Waun Care Home, in Aberystwyth which provides residential and specialist care for up to 90 people at one time living with dementia, in advance of Welsh Music Day. The care home residents have been enjoying music that has a personal resonance for them at a special event ahead of the special day on February 8th.
Alistair O'Mahoney a School of Music & Media student has an internship to complete the project, which is funded by the University's Centre of Ageing & Dementia Research, Merched y Wawr and the Welsh Music Day.
Alistair who is in the third year of a BMus degree, focussing on music in health and wellbeing, said:
"I'm sure everyone can recall their favourite song or songs from their youth. With the growth of digital music, its essential that people still have access to music of earlier periods for older generations, who have perhaps been more used to non-digital sources of music. Providing a comprehensive resource will be a positive contribution to an older generation of people who are living with dementia."
The intention is to work with the record label, Sain, but also to use some rare recordings from the Bangor University Welsh Pop Archive collection, which is in the School of Music and Media. It is intended to launch the finished CD later in the year.
The project welcomes favourite music suggestions in order to prepare a short-list. You can send an e mail to Alistair: canygan@bangor.ac.uk , call Dr Catrin Hedd Jones on 01248 388872 or contact via social media, a new Twitter account has been created: Cân y Gân @CnYGn1 or via the North Wales Dementia Network Facebook Group.
Dydd Miwsig Cymru celebrates all forms of Welsh Language music with free events aimed at gig goers, parents and children, young people, students and businesses are happening across the country. Follow @cymraeg and #DyddMiwsigCymru on Twitter, Facebook and Instagram for the latest details on plans for the day.
Publication date: 7 February 2019