EU-backed project helps maximise the potential of Welsh businesses in the green economy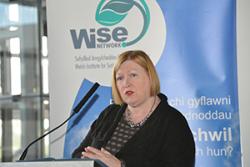 Edwina Hart AM, Welsh Government Minister for Economy, Science and Transport at the Launch.Economy Minister, Edwina Hart, today (15 May) launched the next phase of a project aimed at helping businesses in West Wales and the Valleys become more sustainable and support the low carbon economy.
The WISE Network is a collaborative project between Aberystwyth, Bangor and Swansea universities that enables businesses across the region to take full advantage of the growth in the green economy.
By working in partnership with university research and development experts and making use of their facilities, the project aims to better equip businesses to develop sustainable products, processes and services, and to become more economically, socially and environmentally sustainable.
The WISE Network aims to create a culture of confident businesses that use research and innovation as an essential component in their future development, and to date has successfully collaborated with almost 500 companies through phase 1, and is currently working with 20 new companies and many more in the pipeline.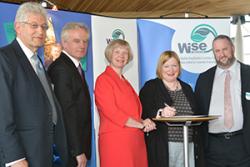 Prof Richard Davies, Vice-Chancellor Swansea University, Prof John G Hughes, Vice-Chancellor Bangor University, Prof April McMahon Vice-Chancellor Aberystwyth University, Edwina Hart, Prof Jamie Newbold, Director WISE NetworkSpeaking at the launch of the latest phase in the Senedd, Edwina Hart, Minister for Economy, Science and Transport said: "I am very pleased to launch the next phase of the WISE Network programme. Supporting growth in this key sector is vital. This is an excellent example of the continued collaboration between industry and academia in Wales."
Finance Minister, Jane Hutt, said "Ensuring that we become a truly sustainable nation is a key goal in our Programme for Government. I am delighted we have been able to invest European funding through the Welsh Government to back this ambition to boost the green economy."
Professor Jamie Newbold, WISE Network Director said:
"The WISE Network responds directly to the needs of businesses resulting in the development of a wide range of innovative products and services. Many of Wales' businesses are SME's and would not normally be in a position to have their own R&D departments, and the joint expertise of our three universities offers a valuable and accessible resource. We aim to provide advice and assistance to allow commercial partners to help develop the Green Economy in Wales by developing sustainable products, processes and services"
Professor April McMahon, Vice-Chancellor of Aberystwyth University said
"With Welsh Government support through European funding, the WISE Network enables companies to access the phenomenal research and development expertise that exists across our three universities. We collaborate to provide advice and practical support for businesses, and work together to jointly realise our potential within the growing green economy. We are proud to be leading the partnership between Aberystwyth, and Bangor and Swansea Universities, and building on the success of WISE 1 led by our colleagues at Bangor."
Case Studies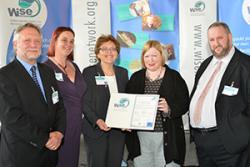 Dr Geoff Proffitt, WISE Swansea, Rebecca Colley-Jones and Dr Einir Young WISE Bangor, Edwina Hart AM, Minister for Economy, Science and Transport, Welsh Government and Prof Jamie Newbold, Director WISE Network.One business already involved in the WISE Network is Phytorigins based in Cwm y Glo, Gwynedd. The company is collaborating with Bangor and Aberystwyth Universities through WISE to investigate whether the use of specific feed additives could prevent obesity problems in cats and dogs.
Carol Michael of Phytorigins said "The global pet food market is set to reach US$95.7 billion by 2017, according to independent recent (2011) analysis by GIA (Global Intelligence Alliance), opening up excellent opportunities for commercialisation of products developed by WISE Network partners, and potential significant gains for the Welsh economy."
Another example is Anglesey based Hiraeth Group Sustainable which is producing Welsh Wood products for the home.
Through the WISE Network the company has been working with Bangor University in developing a certified heat-treated timber product suitable for applications in sustainable construction and the manufacture of high quality household products. The collaboration has also played a major role in developing links between the company and organisations such as Coed Cymru in order for them to fast-track the development of their supply network. They are now looking to establish a larger supply chain and manufacturing base in North Wales.
Emlyn Williams, Hiraeth Partner, said that his company had benefited greatly from the WISE Network assistance.
He said: "I initially approached WISE Network with a technical challenge but they have subsequently helped my business in ways I had never imagined; ethical branding, funding application support and networking...the list just goes on."


Publication date: 15 May 2013