Films created by Bangor University students are up for three Royal Television Society Wales Awards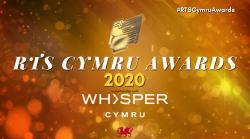 Three films by Bangor University students have been nominated for three prestigious Royal Television Society in Wales' RTS Cymru Awards 2020.
Joanna Wright, senior Lecturer in Media at the University's School of Music and Media commented:
"This is a fantastic result for our students to be nominated as finalists in three out of the four possible categories. Its a testament to the skills and collaborations our students are able to build during their film production studies here, and a great recognition for their work as they move on to careers in the creative industries"
The student films are:
Postgraduate Award:
Searching for Happiness
Factual:
Elis Derby: Fi ac OCD
Tomos Morris Jones
Shortform:
Where are u?
Matt Mellings' film, Searching for Happiness in which he was the Director, Editor and Cinematographer, was made as his MA filmmaking dissertation project.
Tomos Jones's film Elis Derby: Fi ac OCD was his undergraduate project and Where are U? was a final year project by film studies student Hannah Grinmston in collaboration with fellow student Astral Roberts, who edited and directed. It included musical composition by James Gair and also had contributions from members of the University's student Film Society.
The winners will be announced at the RTS Cymru Awards 2020, on Thursday, 27th February at Cineworld in Cardiff. The event will be hosted by popular television presenters, Sean Fletcher and Ruth Wignall.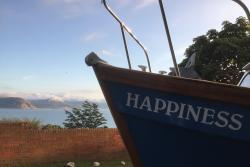 A still from Matt Mellings' film, Searching for Hapiness.Matt Mellings, from Skegness was away in America when the nominations were announced.
He says, "Searching for Happiness is a short documentary that follows fisherman Roger Smith as he reminisces about a life at sea and the discovery of a local mystery. It was my dissertation piece for my Filmmaking MA course. It was created as part of a trio of films that explored the Welsh landscape and interesting hobbies that people have there."
He added:
"I'm amazed that I've been nominated! I never made any of these films with the idea that they would win Awards, I made them because I liked the topics, so it was quite a shock. A big thanks to the staff at Bangor for pushing me to enter various competitions though, and of course all the contribs and crew!"
Matt is currently living in Bristol and has been working in Laos filming bears for a TV programme to be broadcast in the UK next month, as well as working on numerous gardening shows, and more recently, 999 on the Frontline for Channel 4.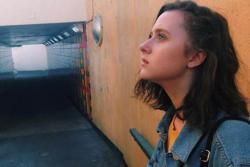 Hannah GrimstonHaving graduated in Creative Studies last year, Hannah, from Watford, is now studying a Masters in Dramaturgy and Writing for Performance at Goldsmiths University.
She explained: "Where r u follows a young woman who overcomes her trauma after being attacked in an alleyway. I wrote the film in a screenwriting class and later adapted it for short film production.
"The nomination is amazing and we are all so proud of our film. I think it goes to show that the film emulates a common feeling of fear and determination. The Film Society were beyond helpful. Having been the President of the Society, whenever we had issues with filming, members were always more than happy to help when needed. It's truly a show of their willingness and eagerness to create films and help their fellow students."
Astral Roberts, who gained her Creative Writing and Media Studies degree last year and is now studying for a Secondary English PGCE at Roehampton University, said:
"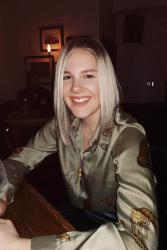 Astral RobertsWe are very honoured to have been nominated. The team worked hard on producing the short film and I am thrilled that we are able to share that work with others."
Astral, who grew up in Leicester and is now living in Kingston Upon Tames, added:
"I loved my time studying at Bangor; it was so different to anything I'd experienced before. It's a very peaceful and close-knit place. I chose to study here as a change of scenery from the cities I was used to. It was definitely what I asked for! The three years went so quickly and now that I am back in a city I often find myself reminiscing about how tranquil life was in Bangor."
Tomos Jones, who studied Journalism and Media, is now a Trainee Editor with Cwmni Da television company in Caernarfon. He thinks the film nominated for the Award was a great asset in applying and achieving the traineeship las September.

Tomos says: "The film was about my friend. I really wanted to show the effect that OCD has on people's daily lives. There' also a lot of stigma about the condition, and that was something else I wanted to investigate."
"I'm delighted that the film has been nominated. Now that the film has been nominated I feel I should develop the film further so that more people can come to an understanding of OCD as a condition."
Tomos chose to study at Bangor as the wide range of module choices appealed to him, and also because he was able to study the majority of his course in the Welsh language.
Publication date: 11 February 2020