Fulbright enables Triple Harp research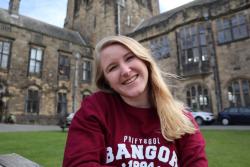 Kathryn in front of the University's main building.An American student has just embarked on a postgraduate research degree at Bangor University having received a highly prestigious Fulbright Award.
Kathryn Hockenbury is the first recipient of the Fulbright Bangor University Award. This award enables students from the US to study a Masters degrees, or the first year of a doctoral degree programme in the field of Celtic Studies, Creative Writing, or Ocean Sciences. It has been made possible through a combined fee waiver from the University and Award to cover living costs made by The Bangor Fund, through generous donations to by the University's alumni community.
Wales was the only destination for Kathryn, and there was no better place for her study than Bangor University's School of Music and Media as Kathryn's MRes research is on the iconic Welsh triple harp
Kathryn came to Bangor University from Lebanon Valley College, near Harrisburg, Pennsylvania, and comes from Malvern, in the same State.
She says: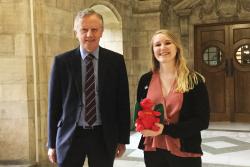 University Vice-Chancellor, Professor John G Hughes wanted to welcome Kathryn to the University as the first recipient of the Fulbright Bangor University Award.
"Bangor University caught my eye with its award-winning education and stunning architecture, but the main reason I chose Bangor was to be surrounded by the spectacular bilingual culture that creates the setting for my historical research on the Welsh triple harp. Over the course of my education, I have forged opportunities to complete independent research projects that fulfil my passion of studying instruments and how they develop over time.
The MRes Music course that I am approaching with the same enthusiasm is perfect for my desire to explore the history of instruments. Here in Bangor, there are many opportunities for me to learn about the Welsh harp and to connect with Professors who have the same passion.
Over the past two weeks, I have gotten the chance to meet people from the university and community who are all welcoming and willing to engage in cultural exchange. I cannot thank the Fulbright Commission and Bangor University enough for allowing me the chance to study here. I look forward to participating in societies and ensembles, as well as completing my research."
Kathryn met with Prof John G Hughes, Bangor University's Vice-Chancellor who said:
"We have hosted the Fulbright Summer Programmes for a number of years. These attract some of the brightest and most enquiring young minds in America, and it has been an honour for us to share Wales' history and culture with them. I'm so pleased that, as an institution, we are deepening that relationship by inviting a promising young student to study with us for a year."
Sheila O'Neal, Executive Director of Development said: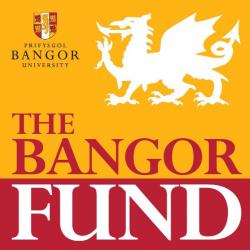 "Many of our graduate community are actively involved with the University, and we value all the contributions that they make to support current projects at Bangor University. This is one of a number of ways in which our Bangor Fund is able to support students wanting to study at Bangor."
The Fulbright Commission manages a range of flagship international educational exchange programmes between the U.S.A and other nations and is designed to increase mutual understanding between the people of the United States and the people of other countries.
Publication date: 2 October 2018