Law student wins court case BEFORE graduating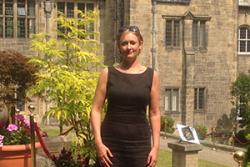 A Bangor University student has more to celebrate beyond receiving a first class honours Law degree. Alex Gibson, 36, from Abergwyngregyn was subjected to a harrowing experience that led her to believe that studying for a Law degree was the only way to protect herself from discrimination and harassment in the workplace.
Alex had done well in her GCSE and A Level examinations, but being dyslexic and having elements of dyspraxia, education had been far from easy for her.
Alex explains: "Although everyone knew I struggled, there wasn't the support for dyslexics then as there is now. I vowed never to go back to education and built my management career up in my 20's through hard work and commitment. I was managing hotels in Italy by the time I was 24 and reached the level of Regional Operations Manager by the time I was 30.
"I decided to take a career break in 2008 and went travelling around South America which was a great experience until I was involved in a terrible mountain biking accident. As well as other injuries, I badly broke the bones my left arm, resulting in a permanent physical disability.
"I returned to the workforce in 2010 but found myself subjected to disability discrimination and harassment for both my physical disability as well as my dyslexia. Traumatised by the ordeal I made some life changing decisions. I elected to undertake pioneering surgery and had a double wrist replacement to try and reduce the physical appearance of my disability. I chose to apply to Bangor University to study for a Law degree to learn how to protect myself and to prove to myself that my dyslexia didn't affect my intelligence, having been humiliated by my former employers.
"Following confirmation of my dyslexia at Bangor University's Miles Dyslexia Centre they recommended support to facilitate my study. I was delighted and overwhelmed to find how much support was now available the Student Services Department to disabled students.
"The support from the Miles Dyslexia Centre was absolutely fantastic. I was assigned Liz De Pre as my support within the centre. Not only would she proof read my essays before submission, she helped give me confidence to achieve what I never would have thought possible: my Law Degree.
Due to a lack of legal aid in the area but determined to seek justice, Alex took her former employers to court. Whilst studying, Alex legally represented herself for the past two and a half years and during an eight day hearing. She eventually managed to win her case on both the grounds of disability discrimination and harassment and finally concluded the case the week after the results of her finals came out. Only 3% of disability discrimination cases are successful at hearing and they are mostly represented claimants.
Alex said: "In hindsight I shouldn't have had the surgery and people should have accepted me as I was. With the help and support of the dyslexia centre, I have achieved one of my greatest achievements to date; I graduated from Bangor University's Law school with a First Class Honours degree after two very hard years of study.
"Intelligence isn't affected by dyslexia and nowadays there really aren't any barriers preventing access to education. I truly believe that awareness and understanding of equality and diversity is critical in today's society. We can achieve anything with the right support."
Liz De Pre from the Miles Dyslexia Centre, said: "Alex is to be admired for her single minded determination to overcome the challenges she faced when she began her degree; she has worked incredibly hard, and with this excellent result she can go forward with confidence in her abilities."
One of Alex's future goals is to undertake a solicitor training course and practise law and help others in similar situations.
Publication date: 23 September 2013