Law Teacher of the Year Award shortlist announced
A Bangor University lecturer has been shortlisted for the prestigious Law Teacher of the Year 2014 award. Sarah Marie Nason from the School of Law is one of six shortlisted law teachers who were nominated from institutions from across the UK.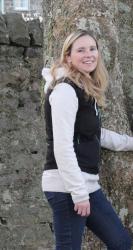 The Law Teacher of the Year Award is sponsored by Oxford University Press, and is the only one of its kind in the UK set up specifically to reward great law teaching.
This year, with a record number of excellent nominations from institutions across the UK, the judging panel found it extremely difficult to decide on the shortlist of six. It took a full week of deliberations over the anonymous entries.
Joining Sarah on the shortlist are Mark Davys, Keele University; Mark Edwards, Sheffield Hallam University; Luke Mason, University of Surrey; Kai Möller, LSE and Lars Mosesson, Buckinghamshire New University.
Delighted at the news, Sarah said:
"I am absolutely bowled over at having been shortlisted, and of course very grateful to the students and colleagues who took the time to nominate me. I have always tried to balance my teaching between preparing students for exams and for the real world of legal practice. More recently I have seen the great benefit of research-led teaching particularly as regards access to justice issues. The shortlisting is really a reflection of the generosity of Bangor law students and the high quality of teaching provided by colleagues across the Law School."
Head of the School of Law, Professor Dermot Cahill, said:
"Over the last three years, Law has been awarded three University Teaching Fellowships, and this year came near the top of the National Student Survey for Student Satisfaction across the United Kingdom, so it comes a little surprise that another of our colleagues, Sarah Nason, has been shortlisted for the University Law Teacher of the Year by Oxford University Press.
"Sarah is not only a superb researcher, but is an equally dedicated law teacher, whose passion for her discipline shines through, encouraging students to push themselves to reach new heights. It is a privilege to work with such a talented colleague, and our students are equally appreciative of her dedication to their learning and progress"
The next stage of the rigorous judging process will involve a campus visit to observe and film Sarah's teaching methods. The judges will also conduct interviews with colleagues and students in order to build up a body of evidence on which to base their decision. The winner will be announced at an awards luncheon on 28 February 2014.
Publication date: 13 November 2013