Lecturer welcomes new students having received two new Awards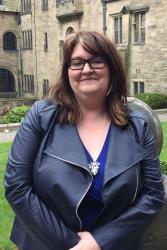 Dr Teresa CrewDr Teresa Crew, a Lecturer in Social Policy at Bangor University is beginning a new year of Lecturing at Bangor University with two new accolades to her name.
Dr Crew has been awarded an Outstanding Teaching in Social Policy Award by the Social Policy Association. Teresa Crew, who is the Year One Coordinator (for Social Sciences) in the School of History, Philosophy & Social Sciences also received a Bangor University Teaching Fellowship during the University's recent degree Ceremonies.
Dr Crew commented: "I'm overwhelmed to get these awards as it only feels like a few years ago I was starting my degree at Bangor University. It goes without saying that without my fantastic Social Sciences colleagues I would never have received these awards. I have such great support. But I have to say that it's my experiences with students that make this job so special. They are inquisitive, open to learn and a joy to work with".
Dr Crew was awarded a Fellowship in the Higher Education Academy (FHEA) in 2017. She also worked on a British Sociological Association task and finish group to create a national Applied Sociology curriculum.
Dr Crew's main teaching and research interests focus on social inequalities, higher education and the broad area of gender. She gained her PhD on graduate inequalities in relation to class, gender and place, which was funded by the Economic and Social Research Council in 2014.
Prior to working at Bangor University Teresa Crew worked across North Wales for the Welsh Assembly, local Authorities and the Third sector. She is a board member for North Wales Regional Equality Network.
Publication date: 28 September 2018