Life for the Cherokee and the history of the Trail of Tears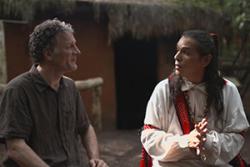 Llun o'r rhaglenIn a three-part series on S4C, Professor Jerry Hunter travels to America to learn more about the history of Welshman Evan Jones and the Cherokee community of today. Evan Jones a'r Cherokee starts on Wednesday, 23 March.
In 1838 members of the Cherokee community were driven away from their land in the eastern regions of America to make room for the white man. Evan Jones, who was there as a missionary, was witness to this.
"This was one of the darkest periods in American history – we call it ethnic cleansing these days," says Professor Jerry Hunter, who is originally from Cincinnati, Ohio but now lives in Wales and is a lecturer in the School of Welsh, Bangor University.
"When people first came from Europe to North America, at least 250 native languages were spoken. Terms such as 'American Indians' suggest they were just one group of people – in fact, there were hundreds of different tribes living in different areas, speaking their own languages."
Nowadays, 300,000 people are officially registered as Cherokee and 10,000 are able to speak the language. Over the past few years, efforts have been made to ensure the language survives with the opening of Cherokee schools and the teaching of the language in universities.
In this series, Jerry Hunter looks at the history of Evan Jones' journey from Llaneigon in Powys to North Carolina. He settled there as a missionary and learnt the native language. When the Cherokee were forced from their land, Evan Jones went with them.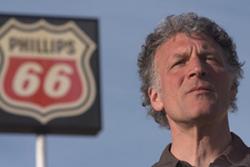 "When the white man arrived, he brought disease and war - which led to the loss of land and eventually, ethnic cleansing. It's a miracle the Cherokee has survived at all," says Professor Hunter, who is able to speak some Cherokee himself. "Most of the Cherokee now live in the West in Oklahoma but this is only because they were forced to move there."
Nevertheless, there are still some Cherokee in North Carolina where Evan Jones went to live as a Christian missionary for the Baptists in 1821.
"The fact that Evan Jones was willing to use the Cherokee language to preach was an important factor in the success of the Baptist mission there. He helped the Cherokee children with reading in their own language and this period was a pivotal time in the history of the Cherokee in America."
The first programme focuses on Evan Jones' early years with the Cherokee, the second on the Trail of Tears and the third on the history of the Civil War when the Cherokee nation was ripped apart.
Evan Jones a'r Cherokee
Wednesday 23 March 9.30, S4C
English subtitles
Website: s4c.cymru
A Cwmni Da production for S4C
Publication date: 18 March 2016