Local scientists and teachers unite to bring cutting-edge science to Bodedern School (Ysgol Uwchradd Bodedern)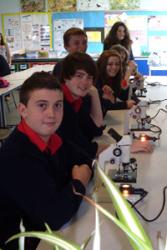 Ysgol Bodedern School Pupils in the classroomYsgol Uwchradd Bodedern (Bodedern High School) in Anglesey, north Wales, has been chosen by The Royal Society, the UK's national academy of science, to receive a Partnership Grant – only the second in north Wales - that will enable local scientists from Bangor University to work with teachers from the school to implement an innovative science project.
The project, to start in September 2012, titled Antarctica, Climate Change and Icefish, aims to introduce pupils to the effects of climate change on marine animals in a part of the world where biodiversity and habitats are especially vulnerable to environmental change. It will see pupils from Year 10, aged between fourteen and sixteen, take on the challenge of formulating and testing hypotheses about climate change, and examining how a mix of biological and physical evidence on ocean conditions can be used to assess impacts on Antarctic icefish and the wider marine community. The partnership will initially include demonstrations and laboratory work for pupils at Ysgol Bodedern, which will then be followed by talks and hands-on laboratory work in the Molecular Ecology and Fisheries Genetics Laboratory, School of Biological Sciences, at Bangor University. Scientific work will be broadcast direct from the Antarctic in late 2013 through the use of podcasts and video links to scientists based at King Edward Point, South Georgia. Ways of formulating hypotheses and collecting evidence relating to climate change will be explored through different scientific approaches. For example, higher temperatures are expected to reduce the survival and distribution of fish larvae in marine waters because faster growth might result in starvation before young fish reach their nursery grounds. Cutting-edge genetic tools (a type of "genetic profiling"), and advanced microscopy to age young fish will be used to examine the likelihood and evidence for such effects under a range of simulated temperatures. Following these activities, secondary Ysgol Bodedern pupils will use the techniques and knowledge they acquire from the University partnership to design a bridging exercise for Year 6 (primary) students from local primary schools (including, Ysgol Gymuned Bryngwran,Ysgol Cylch Y Garn Llanrhyddlad, Ysgol y Ffridd Gwalchmai, Ysgol Gymuned Llannerchymedd, Ysgol Pencarnisiog, Ysgol Gynradd Bodedern, Ysgol Gynradd Llanfachraeth, Ysgol Ffrwd Win Llanfaethlu, Ysgol Gymraeg Morswyn Caergybi) in the summer term of 2013, which will include a presentation at the Bangor Science Festival (http://www.bangor.ac.uk/bangorsciencefestival/) in March 2013 . Project partners include the British Antarctic Survey, based at Cambridge, who are developing models to understand the distribution of icefish larvae in relation to climatic and marine conditions. Predictions from such models can be tested using evidence from the genetic and ageing studies. The project offers young people the chance to meet and work with local scientists and allows them to build and develop their scientific understanding in a way that is exciting, original and relevant to their lives.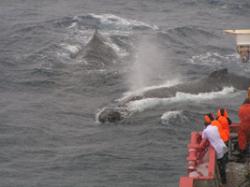 Ysgol Bodedern School pupils in the classroom: Photo credit - Dr Mike Meredith BAS CambridgeProfessor John Pethica FRS, Vice-President of the Royal Society, said: "We're pleased to be supporting Antarctica, Climate Change and Icefish at Ysgol Uwchradd Bodedern, and are looking forward to seeing this imaginative project come to life over the coming months".
"Science and engineering are exhilarating and dynamic subjects and we hope that by giving teachers the opportunity to introduce innovative science that we can help show young people how much fun in real-life these subjects can be, and inspire them to become the inventors, explorers and innovators of the future."
Professor Gary Carvalho, a Professor of Molecular Ecology, and Dr Mark de Bruyn, a postdoctoral research scientist at Bangor University, will be working in partnership with the Head of Biology, Lyndell Williams at Ysgol Bodedern from September 2012 – April 2014. Talking about why he has become involved in the scheme, Professor Carvalho said: "Our project will bring to life what pupils learn about in the classroom and help them to understand the impact of science upon their day-to-day activities. Making these subjects relevant is how we demonstrate how vital they are to our lives."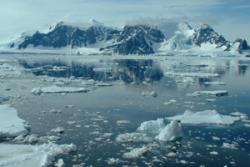 Antarctic landscape: Photo credit - Dr Mike Meredith BAS CambridgeMrs. Anwen Morgan, the headteacher at Ysgol Uwchradd Bodedern, said: "As a school, we are very pleased with this project and look forward to working with Bangor University."
Teachers, scientists, engineers and industry partners interested in applying for a Partnership Grant should visit www.royalsociety.org/education.
Publication date: 10 July 2012