MOVE - Putting Research into Practice
Haemodialysis patients can now increase their physical activity while receiving lifesaving treatment, thanks to a new website developed by exercise specialists.
Exercise Physiologists, Dr Jennifer Cooney and Dr Jamie Macdonald from Bangor University's PAWB Centre in the School of Sport, Health and Exercise Sciences put their research into practice by creating MOVE, a website and resources which help people with kidney disease feel better by moving more, despite having to spend a large amount of time being sedentary while receiving their essential lifesaving treatment.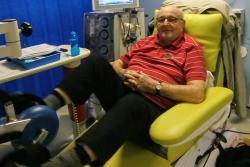 Lynn David has been exercising following the booklet suggestions, at the Liz Baker Renal Unit as Swansea's Morriston Hospital.Dr Jennifer Cooney explains:
"People with chronic kidney disease and in particular people who receive haemodialysis are required to attend hospital several days per week and for long periods of time. This can result in patients becoming physically inactive. Previous research including our own work, has shown that regular physical activity can be very beneficial to dialysis patients. Patients who exercise regularly tell us that physical activity improves their physical fitness, muscle strength, functional ability, general wellbeing and overall quality of life."
Funded by Bangor University's ESRC Impact Acceleration Account, MOVE has been developed to help dialysis patients increase their physical activity and to help health professionals make exercise part of routine care.
All MOVE resources are freely available on the MOVE website: move.bangor.ac.uk. The patient booklet My Get Active Guide is also available in Welsh and is already being translated into other languages.
Dr Jamie Macdonald commented: "It's great to see recent research findings now being implemented in clinical care. Wales is really leading the way with this project and we feel that MOVE has the potential to help make exercise part of routine care in renal units throughout the UK and worldwide".
Lynn David from Bridgend, a dialysis patient at the Liz Baker Renal Unit, (Morriston Hospital) said:
"I felt quite isolated (with coping with this renal disease), and I felt the booklet empathised with you – its excellent!"
Celia Davis from Bridgend, a dialysis patient at the Liz Baker Renal Unit (Morriston Hospital) said:
"I found it interesting, with a good selection of exercises to do. I wouldn't have thought of doing leg exercises. It was easy to understand the booklet."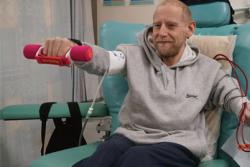 Simon Freeman has also been getting involved with exercising while visiting the Elidir Renal Unit at Ysbyty Gwynedd.Dr Poulikakos, Consultant Nephrologist at Bolton Renal Unit (Royal Bolton Hospital) said:
"This is excellent work that addresses the unmet clinical need for individualized exercise prescription in patients with advanced chronic kidney disease. MOVE can be a valuable tool to assist tailoring exercise to specific needs and abilities in dialysis patients and incorporating exercise in routine care."
Clare Weekes, a Renal Physiotherapist at the Liz Baker Renal Unit (Morriston Hospital) commented:
"The patients are enjoying the booklet and many have now started to exercise regularly at home. It's a good reference guide and the patients feel they can relate to the exercises primarily because there are pictures of someone exercising whilst dialysing!"
Jasmine, a Student Physiotherapist at Morriston Hospital said:
"The Health Professional Guidelines are very specific making it easy to follow. The patient booklet is proving to help provide patients with a more active lifestyle"
Publication date: 9 April 2019