New degree programme launched at the Eisteddfod
Amidst the hustle and bustle of a Tuesday morning at this year's Eisteddfod, the School of Welsh launched a brand new degree programme, Cymraeg Proffesiynol. Jointly developed with the University's Centre for Welsh Language Services, Research and Technology, Canolfan Bedwyr, the launch was opened by the Secretary of State for Wales, The Rt Hon Alun Cairns MP.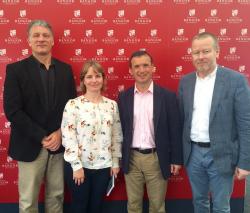 Prof Jerry Hunter, Dr Lowri Hughes, Rt Hon Alun Cairns MP and Prof Gerwyn Wiliams

Accepting its first cohort of students next September, the new degree programme introduces new modules such as 'O'r Senedd i'r Swyddfa', 'Iaith Gwaith' and students will also have work experience opportunities with local institutions and businesses. In addition to receiving practical training and studying vocational elements such as translating and language planning, students will also study elements of Welsh literature up to the present day, giving them a balance between a traditional and a practical course structure.

Presiding over the launch was Professor Gerwyn Wiliams, Head of the School of Welsh. He said:
"By combining the School of Welsh's illustrious academic tradition and Canolfan Bedwyr's rich practical knowledge, this new degree programme will offer an excellent entry point into employment in present day Wales."
This was reinforced by the Secretary of State for Wales, The Rt Hon Alun Cairns MP, who said:
"I am honoured to speak at the launch of Bangor University's new course, Cymraeg Proffesiynol. It is clear that this course is a response to employers who require a unique skill of Welsh, suitable for the work place. This is a remarkable testimony of where the Welsh language is today and to launch Cymraeg Proffesiynol at the National Eisteddfod is very fitting."
Publication date: 2 August 2016