New Sports Dome Opened by Lord Coe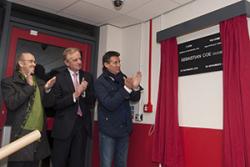 Lord Coe opens the Universty's new Sports Dome. With him are Lord Davies of Abersoch, Chair of the University Council and Vice-Chancellor Prof John G Hughes.Lord Coe, the man who made the London 2012 Olympic Games a reality, officially opened a new sports facility at Bangor University on Monday (25.11.13).
While visiting the University, Seb Coe officially opened a new indoor tennis and netball facility at Bangor University's Sport Centre.
Part of an on-going refurbishment of the University's sports facilities, which are used by students and the local community, the weatherproof sports dome provides facilities for indoor netball and tennis throughout the year.
The structure, costing just over half a million pounds measures 73m x 26m and provides two full size indoor netball and tennis courts. Along with two existing courts at the Sports Centre, this makes Bangor University the only four netball venue in the region.
Bangor's Vice-Chancellor, Professor John G Hughes, said: "We're delighted to have such a high profile sporting personality as Lord Coe visiting us to open the new facility. Bangor has recently invested millions of pounds in developing new academic and social facilities for students, making it an even more attractive place to study."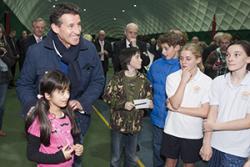 Young sports enthusiasts meet Sebastian Coe inside the Dome.Richard Bennett, Director of Sport at the University, commented: "As a University and through the Sport Wales Call for Action bid process we identified a cost effective way of making much better use of some poorer quality outdoor tennis courts. We were able to install the Dome in a short space of time over the summer, making it available to our students and visiting schools from this term. The installation of the dome marks the completion of Phase 1 of our 2 phase refurbishment project. We are now very much looking forward to Phase 2 getting underway just before Christmas."
Graham Williams, North Regional Manager from Sport Wales, commented: "In 2012, through the Calls for Action project, Sport Wales made £1.5million worth of additional funding available to get the Welsh population more active and healthy.
"Creating new partnerships, such as this one with Bangor University and Welsh Netball, the project has sought to tackle obstacles, such as a lack of useable facilities that were preventing communities from having regular access to sporting opportunities.
"Just over 12 months on we are extremely excited to see the official opening of the new netball and tennis sports dome, which is set to provide year-round facilities, not only for the student population, but for schools and residents of the surrounding communities. We believe this type of project can have a big impact especially on women and girls and are looking forward to seeing the on-going use of this innovative and adaptable sports facility."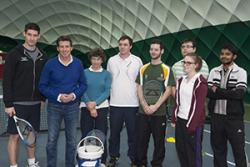 Lord Coe met with some tennis players.Sport Wales contributed £80,000 towards the project.
To be opened by summer 2014, the refurbished University Sports facilities will include a brand new two-storey gym, a new aerobics studio, the complete replacement and upgrade of the public changing rooms and showers, and a new floor in the main sports hall.
Lucy Murray-Williams, North West Wales Netball Development Officer, based at Bangor University said: "The dome provides a much needed space in which we can grow junior netball and ensure that we have space for clubs and schools to train in the future – typically we have to compete with 5-a-side football bookings in sports halls, but having our own dedicated space will make a massive difference to the next generation of netballers in North Wales"
Management and property consultant AA Projects was responsible for the overall design of the Dome and is providing quantity surveying, employer's agent, design and building surveying services on all phases of the University's sports redevelopment programme.
Patrick Noble, Contract Administrator at AA Projects, said, "We are delighted to be working with University on the complete refurbishment of their sports facilities and to have played an integral role in the design and provision of the Dome which will provide outstanding weatherproof amenities for students and the local community."
See a short video of the Opening here
A time lapse recording of the dome being erected is available here
Publication date: 22 November 2013