Osian Huw Williams wins the Musicians' Medal at the National Eisteddfod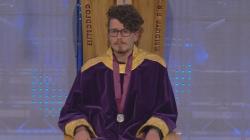 Osian HuwBangor University student, Osian Huw Williams is the winner of this year's Musicians' Medal at the National Eisteddfod of Wales, and he was honoured at a special ceremony on the Pavilion stage on Wednesday evening.
A talented and well-known musician, Osian is studying for a Masters degree in composing at the School of Music, and one could say that music is in his blood. Known to a generation as the lead singer of Candelas, the band will headline Saturday night at Maes B this year – the most coveted slot in the Welsh pop and rock scene.
Originally from Llanuwchllyn and the son of Derec Williams, one of the founders of Cwmi Theatr Maldwyn, Osian learnt the guitar and drums from a very young age. Involved with the company from an early age, this greatly influenced him over the years.
He says that it is impossible for him to imagine a life without the productions, experiences and family within Cwmni Theatr Maldwyn. And this is a relationship which still exists today, as Osian was an important part of the 'Gwydion' team, and played the drums at this year's Eisteddfod's opening concert.
This year, the Musicians' Medal is presented for a Musical – one chorus song and two solos with an outline of the whole show, using original Welsh words or those already written.
The adjudicators were Caryl Parry Jones and Robat Arwyn. Nine entries were received, and Deg y Cant's work was the best, receiving great praise from both judges.
Presenting the adjudication from the stage, Caryl Parry Jones said, "Gwion Bach's story by Deg y Cant is extremely exciting. The composer is keen for the show to be produced in the style of 'War Horse' with puppets and live animation according to his notes, and the song 'Gwion Bach' is fantastic start to the show. You can 'see' the production immediately. It's full of exciting musical motifs, presenting the story etherially, growing and growing before introducing the witch, Ceridwen.
"With its harmonious structure, the strong use of unison, the vocal range, the orchestration and the melody in the solo parts, this composition draws the audience into this world of mythology and fantasy.
"It explodes originality, is excitingly musical and infectiously dramatic. We can't wait to enjoy the show. Congratulations to Deg y Cant for being totally totally deserving of the Musicians' Medal and thank you to him for taking a great stride forward with the Welsh language musical genre."
The Medal is presented by Urdd Cerddoriaeth Cymru, with a financial prize of £750 (Cymdeithas Theatrig Ieuenctid Maldwyn) and a £2,000 scholarship to further the winner's composing career.
Publication date: 6 August 2015