Saving millions by giving babies in Wales the best start in life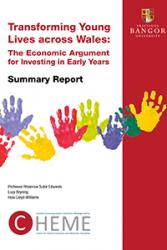 Investing in programmes and services promoting the best start in life for our infants and children could deliver financial savings over the short and long term in Wales.
So argue health economists at the Centre for Health Economics and Medicines Evaluation (CHEME) at Bangor University in their report "Transforming Young Lives – The Economic Argument for Investing in Early Years" launched today (13th October 2016). CHEME is part of the University's School of Healthcare Sciences and contributes to the Bangor Institute for Health & Medical Research (BIHMR) which brings together health research across the University.
As report lead author Professor Rhiannon Tudor Edwards explains: "Today, one in three children live in poverty in Wales. Those born in the most deprived areas of Wales could expect to live 19 fewer years in good health than those born in the least deprived areas of Wales. Wales is already spending millions of pounds each year on the consequences of a poor start in life for many babies born today. These are acknowledged facts, and their consequences are costing the economy and society dearly.
Wales already has a significant policy direction and investment in programmes and practice relating to Early Years. To build on this we looked at the economic evidence to support investment in services and programmes targeted at children under 7 years. We found that by investing in the health and well-being of babies and young children, Wales has an opportunity to benefit from both short and long-term dividends right across society in the future."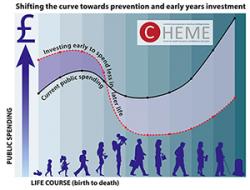 Source: Current spending based on figures by the Office for Budget Responsibility (2015)This report highlights evidence that the foundations for thriving are laid down long before birth, with a critical time for investment occurring pre-conception and in early pregnancy. The report draws on evidence that shows that every £1 spent on contraceptive services could return between £11 and £14 in savings to the NHS in Wales, in addition universal provision of essential vitamins during early pregnancy is highly likely to be cost-effective. The additional cost to Welsh NHS maternity services of delivering low birth weight babies attributed to smoking and other modifiable risk factors is estimated to be £2.15 million annually. It also estimates that increasing the proportion of women who exclusively breastfeed at 4 months (currently at 9% in Wales) to that seen at birth (57% in Wales) could save the NHS in Wales £1.5 million annually in treating common early childhood illnesses.
Approximately 5% of children in Wales have some form of conduct disorder. Public sector costs for children with conduct disorders are ten times more than for children with no conduct disorders. The reports highlights that parenting programmes, if delivered well, can be effective and cost-effective in preventing and reducing the long-term effect of conduct disorder in children, with potential lifetime savings of around £150,000 per case.
The report highlights the wider context for investment in Early Years by considering children's environments and community. Acknowledging the importance of physical activity and play, the report highlights that every £1 invested in adventure playgrounds could provide a return on investment of £1.32.Playgrounds and public spaces should be appropriately valued as health and well-being creating assets and a means of tackling social exclusion.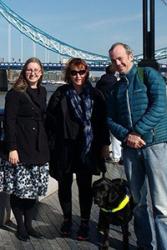 Report authors, left-right: Lucy Bryning, Prof Rhiannon Tudor Edwards, with guide dog, Jazz) and Huw Lloyd-Williams.Professor John R Ashton C.B.E., Former President of the Faculty of Public Health said that this report:
"takes us from a tired, if valuable, form of health service economics to a new and emerging discipline of Public Health Economics. The starting point is the recognition that in the twenty first century, children are an asset that need to be valued. From that very down to earth insight flows the understanding that investment in the early years is not a luxury but an economic necessity."
The authors concluded that based on international evidence including strong evidence of effectiveness for early intervention programmes from Wales, investment that focuses on the critical window of the first few years of life is likely to provide the most efficient use of public resources, yielding returns over and above other forms of financial investment and investment at other points of the life course.
Professor Judy Hutchings, OBE, Centre for Evidence Based Early Intervention, School of Psychology Bangor University commented:
"Professor Edwards and her team have done an excellent job in reviewing this evidence and highlighting the longer term human and financial benefits arising from early intervention. This report needs to be acted on in order to redress the impact of social exclusion on the long term outcomes for disadvantaged children."
Publication date: 13 October 2016