Slate and Sounds: Bangor University at the National Eisteddfod Monmouthshire and District 2016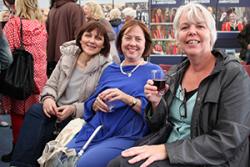 The annual Reunion is an opportunity to meet up with old friends over a glass of wine!Bangor University's presence will be seen and heard at the National Eisteddfod field this year with a full programme of events taking place at their stand during the festival week.
On Monday morning between 11:00 and 12:00, the University, in conjunction with Aberystwyth University, is launching a new vision for the North and Mid Wales Centre for Teacher Education. The afternoon's activities between 1400- 17.00 focus on Welsh and the digital revolution. The School of Social Sciences will lead presentations on the use of Welsh on digital platforms, and a discussion about a European project, 'Generation Beth?' following a successful partnership between Bangor University, S4C and Cwmni Da. The afternoon closes after a session on the latest terminology resources from Canolfan Bedwyr's Language Technology Unit.
On Tuesday, the School of Welsh launch a new degree course, Cymraeg Proffesiynol, (Professional Welsh) between 12:00 and 13:00. Then, from 14:00, Gwenan Prysor (School of Social Sciences) chairs a session discussing culture's role in the care sector (Bwyd i'r enaid: rôl diwylliant ym maes gofal). Also taking part are Malan Wilkinson, Manon Rhys, Cefin Roberts and Mared Llwyd.
Continuing the theme of culture and the arts, a new literary magazine is being launched at the stand between 11:00 - 12:30 on Wednesday. Come to hear O'r Pedwar Gwynt's editorial team; Sioned Puw Rowlands, Owen Martell and Mari Siôn discuss their exciting plans for the new magazine.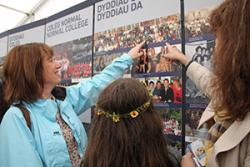 Who do you recognise in our old photos?The University looks forward to greeting old friends to the Alumni Reunion, which opens at 14.00. This is the highlight of the week's activities on the stand at each Eisteddfod, and is a great opportunity for former students and staff of both the University and former Normal College to meet up and share memories over a glass of wine and light refreshments.
Music from a talented band from the Llanrug area, Y Galw, brings a bust day's activity to a close when they play a set at 16:00.
Activities resume on Thursday with Bwrlwm Bro. Dr Catrin Hedd Jones of the School of Psychology will be encouraging people to share their views about whether and how the Welsh language and culture contributes to fostering resilient and sustainable rural communities. All are welcome to the meeting which begins at 12:00.
Though referring to the last century, the topic of this year's Barn lecture at 13.00 on Thursday is certainly topical. Bethan Kilfoil will discuss our European friends from 1916 to Brexit and the possible lessons that Wales can learn in Cyfeillion ffyddlon yn Ewrop – O 1916 i Brexit: ailddiffinio'r berthynas rhwng Iwerddon a'i chymdogion. The Lecture is open to all.
Mathematics then takes the stage at 15.00 as Emeritus Professor Gareth Ffowc Roberts presents his latest book, Count us in, which explores how maths affects our daily lives.
The slate industry played a powerful role in establishing the University, so it is fitting that Friday's events all focus on the important legacy of the slate industry in the region. A new Facebook site Enwebiad Safle Treftadaeth y Byd Llechi Cymru (Nominating the Welsh Slate as a UNESCO World Heritage Site) is being launched at 12.00. Children from Ysgol Gynradd Pentreuchaf join in at 12:45 to share their experiences of working with Halen Môn and Cerrig to design, create and sell slate salt cellars.
Could UNESCO World Heritage status and heritage in general be a means of rejuvenating the economy of post-industrial areas? Call in at the stand at 13.00 to hear some opinions at Gwerth y Byd?
Whether through choirs or rap, the slate communities have made a significant contribution to the Welsh music scene. Record Company Sain launch their latest compilation: Llechi, a collection of songs inspired by the slate communities at 14.00. Renowned singer-songwriter and musician, Gai Toms, who celebrates his roots in the slate community of Blaenau Ffestiniog draws the days' focus to a close with a set of live music at 14:30.
Staff from The Cynefin Centre at Bangor University are also on the stand on Thursday. They will be gathering narratives about Welsh culture and language, and Wales' place on the international stage as it enters a post-Brexit age. Based on the results, they hope to present a narrative description of Wales in 2016 and beyond.
The week's activities on the stand come to an end of Saturday after music from two bands local to the University: Y Galw play at 4:00 and Y Chwedlau at 15:00.
Publication date: 28 July 2016