Steve Backshall leads his first lecture at Bangor University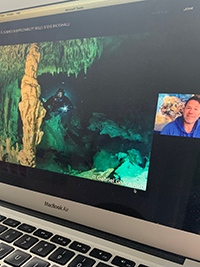 TV presenter and explorer, Steve Backshall, gave his first lecture as part of Bangor University's teaching team this week.
The wildlife expert known for TV programmes such as Deadly 60, Expedition and Blue Planet Live shared hisexperiences with third year students from the School of Natural Sciences (Biology Zoology Conservation, Forestry, Geography) and the School of Ocean Science on the Science and Employability Skills module.
Due to Covid restrictions and being in quarantine after his latest expedition to Russia the lecture was delivered online, but the explorer emphasised more than once his desire to deliver lectures on campus as soon as restrictions are eased.
During the lecture, Steve explained more about his 20-plus years in wildlife and conservation media, and provided an insight into the lessons he'd learnt along the way as well as talking through behind-the-scenes footage of his many expeditions to places such as Bhutan, Borneo and Alaska.
Steve said, "As a child, I remember being crushed that everything had already been explored. Turns out I was wrong - there are far flung places that haven't been explored. I would love to think that it would be one of you that would take over the mantle and be the next ones to explore these amazing places. I don't have many regrets, but not studying in Bangor is one of them and every time I come up to your place I think: what a wonderful place to study wildlife!"
After the lecture, Steve answered all kinds of questions from students, from how to pursue a career in filming wildlife documentaries to advice on funding research and the media's power to affect change on issues such as deforestation and climate change.
Speaking after the lecture, Student Toby Carter, Environmental Conservation student said, "It's a pretty big deal to have someone with Steve Backshall's credentials in working on wildlife programmes with broadcasters like the BBC, SKY and PSB come and speak directly to us, and offer really practical advice on pursuing careers in our chosen field. It's really inspiring and I'm looking forward to the next one, which is specifically on the nitty-gritty of careers in wildlife and conservation already!"
Stevie Scanlan of the College of Environmental Sciences and Engineering added, "What came through very strongly was Steve's passion for what he does, and the sense of camaraderie and friendship formed with the people he works with.  I'm sure the way he described the experience of exploring the wild and witnessing something extraordinary that is still pristine will inspire many starting on their careers in environmental sciences."
Interested in studying natural sciences at Bangor? Find out more HERE
Publication date: 16 October 2020