Strengthening regional education ties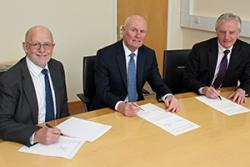 Left-right: Professor Upton, Interim Vice-Chancellor at Wrexham Glyndŵr University; Grŵp Llandrillo Menai CEO Glyn Jones, and Bangor University Vice-Chancellor, Professor John G Hughes.Giants of education in North Wales have further strengthened their ties to lay the foundations for a new era of academic and industrial collaboration.
Wrexham Glyndŵr University, Bangor University and Grŵp Llandrillo Menai met at the college's Rhos-on-Sea campus to sign a new partnership agreement that will see the institutions seek alternative progression routes from further education to higher education and look at a wider strategic alliance in the region.
By working more closely together and building on existing connections, the three institutions will explore new ways to meet the skills and education needs of businesses and prospective students across North Wales and beyond.
Grŵp Llandrillo Menai has played a major role in increasing participation in education, and CEO Glyn Jones believes the union will support and enhance this further.
He said: "For many people, the cost and practicalities of going away to university makes getting a degree an impossibility. The provision of degrees locally has changed that.
"Our students often tell us that studying for a degree with us has literally been life-changing. Increased knowledge and skills, more confidence, and better career and promotion opportunities are just some of the benefits they tell us they derive.
"Our strategic alliances with Bangor and Wrexham Glyndŵr universities are a formal recognition of the importance which all three institutions place on providing accessible, work-related university qualifications for the people of North Wales and beyond."
Bangor University Vice-Chancellor, Professor John G Hughes, said: "Bangor University is proud of its substantial involvement in the region and has, over many years, embraced the opportunity to work with others to develop economy, improve skills and transfer knowledge and research into businesses.
"We are now entering into a new phase of our collaboration with regional education partners. The University is looking to strengthen and broaden its engagement with Grŵp Llandrillo Menai and to begin a new phase of engagement with Wrexham Glyndŵr University.
"Collaboration with our partners in the region can only be to everyone's advantage in these challenging times."
Professor Graham Upton, Interim Vice-Chancellor at Wrexham Glyndŵr University, added: "We have a long and established relationship with Grŵp Llandrillo Menai and Bangor University and wanted to reinforce that commitment to working together.
"This agreement brings relationships with both institutions up to the present day – having been through structural changes and growth in recent years – and shows how we are all working together to enhance the provision of further and higher education in North Wales.
"Together we will have an even greater impact on education, industry and the local economy, delivering a more positive experience for all of our students and commercial partners."
The move comes after Wrexham Glyndŵr and Coleg Cambria strengthened their strategic alliance agreement last year. Both parties will continue to work collaboratively to provide co-ordinated solutions to meet the training and skills development needs of businesses and employers in north east Wales, building on existing progression opportunities from FE to HE between the two institutions.
Publication date: 28 January 2016