Students' music video heads for viral fame
Having their heads shaved for charity proved the impetus for two Bangor University Music students to create a music video which is rapidly going 'viral' on the internet.
At the time of writing, 'The Changing Man' by Colonel Dax has had over 160,000 views on YouTube, with comments and messages of support from as far afield as Australia and America and Spain.
Conceived initially by Tom Hughes and performed by Tom and fellow student and band member, Anna Silver, the video has a very catchy tune and was cleverly filmed over a year as the couple's hair re-grew. To make the video, the pair spent some part of each day miming a part of their song to film on average, half a second of video. This was finally almost seamlessly stitched together to show the two singing their song as their hair grows.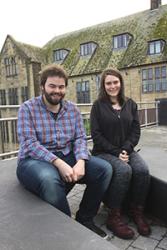 Tom and Anna outside the University's School of MusicThe third year Music students, who met at Bangor University, say that though this was a side project, their studies at Bangor University's School of Music, especially last year's music technology module, armed them with the skills needed to record their music.
Tom, 25 of Ruabon, came to Bangor University to study music complete with a 'back- catalogue' of songs written over the previous five years, that he's keen to record and video. His impetus to come to University to study music was so that he could develop his musicianship and technical skills.
Anna, 21 from Wavertree in Liverpool is an accomplished pianist, having achieved grade 8, and studying performance and composition as part of her Music degree.
They completed and launched the video on their YouTube channel and watched it slowly rise in popularity until early February, when, overnight, the video began attracting views by the thousand after being shared on a popular internet aggregator.
"I was an 'early-adopter' of YouTube and enjoyed watching and creating videos when I was younger- and had seen videos of people photographing themselves over a year. After we'd had our heads shaved for charity, I realised that we had a fantastic opportunity to use our shaved heads for a video," explains Tom.
"I'm a keen songwriter and often jot or record tunes and lines to work into songs later. The first line of the song came from one of those recorded memos- and the song was actually written in blocks over the year, as it was recorded."
"The song is about identity and how some people change their identity to fit in with other people and how that can cause problems," he says.
Anna said, "We've been amazed at how quickly interest in the video has spread and are pleased that people are enjoying it, though it's quite different to our other work."
Tom has already produced an album from his 'back- catalogue' under the Colonel Dax name, performing most of it himself, though this song, The Changing Man also features. He put together a band to perform the album, and Tom hopes that future projects will be more collaborative. Tom plays drums and keyboard and sings, while Anna plays bass guitar, and keyboards and also sings. They are joined onstage by two guitarists, Billy Evans and Alex Hunt from Wrexham.
Dr Owain Llwyd, Tom's 3rd Year Project supervisor said: "The sheer determination and perseverance involved in producing a product of this quality is incredible. Tom and Anna's video has resonated with so many people from across the world demonstrating the power of the internet, and the simplicity of their creative intent. It's also a really catchy tune!"
Eleri Brady, Macmillan Fundraising Manager for North Wales and North Powys, said:
"It is just brilliant that Tom and Anna Braved the Shave for Macmillan.
"We're used to seeing before and after photos from these fundraising events but never seen such a clever, creative and catchy way of recording what happens after the event."
Tom Hughes is 25 and attended Ruabon School. He will be submitting a 25 minute rock music composition for the band as his final year BMus project. Tom chose to study at Bangor University as it is the best Music School within close proximity to Wrexham. He also likes the village-like community feel of the city.
Anna is 21 and comes from Wavertree, Liverpool, She is a former student of Archbishop Blanch School. She is composing a classical piano prelude as her final year project for her B Mus degree. She says she chose to study at Bangor University as the School had excellent facilities and friendly tutors, and as Bangor provided a contract to city life.
Publication date: 8 February 2017