University partnership pays long-term benefits for innovative company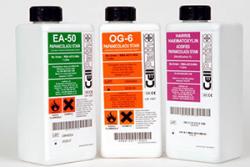 Some of the range of stains produced by CellPath.One of Wales' innovative medical supplies companies can trace a period of exponential growth which saw the company turnover increase by 400% and grow from 5 to 65 employees, to a critical partnership with Bangor University.
Previously known for the manufacture and sales of laboratory plastics, CellPath, based in Newtown, Powys, is now, among other things, the UK market leader in cytology stains, with over 50% of the domestic market and European exports. The company has also recently begun trading in the USA.
It's sobering to note that cervical cancer is the second most common cancer of women. However, the mortality rate has been drastically reduced by the development of the smear test, and later the introduction of a vaccine. Since the Papanicalou or 'pap' screening test was introduced, cervical cancer deaths have declined by 74% in the USA, according to one statistic.
During the 90's the company realised that there was a potential future problem with the 'pap' smear test diagnoses. This came to light in the media at the same time as a world shortage of one of the ingredient dyes used in the 'pap' test. The stains and dyes used in 'pap' smear tests were not manufactured on a large scale by any one company, and this led to shortages of raw materials and price fluctuations.
A new approach was obviously needed. CellPath saw the opportunity and worked with Bangor University's School of Chemistry on a number of related projects over the next few years. This led to the company developing and manufacturing a novel set of dyes for use in cervical smear tests and other medical procedures.
The work at the University's School of Chemistry was led by Professor Mark Baird, an expert in synthetic organic chemistry.
As a result of a three year 'Teaching Company Scheme' (now called KTP), Dr Jeremy Tomkinson from Bangor University worked in the company to implement a new approach to compounds used the 'pap' test and other biomedical specialist stains.
The Managing Director of Cellpath, Mr Peter Webber said:
"The new stains developed in this programme were more effective, economic and readily available than existing formulations. The University was also able to advise CellPath on the setting up of appropriate laboratory facilities for manufacturing these stains and in optimising the process. We were able to reduce production costs and suggest other efficiencies to the company."
The company invested £170k in production facilities, but results were immediate with a turnover from £1.1M to £1.5M in the first year (1996).
Prof Baird said:
"The KTP is an excellent way for Universities to help companies – in this case help lasting over a period of some 20 years. They also provide a great training for the Associates placed in the company – in this case Jeremy Tomkinson has gone on to be CEO of the National Non-food Crops Centre, a leading Bioeconomy consultancy providing direct advice to Government and industry."
Dr Tomkinson commented:
"The KTP is an ideal way for new graduates and postgraduates to gain real experience of cutting edge industry developments while still having access to crucial support from a university. My time at Cellpath was immensely rewarding both technically and personally as it gave me first hand experience of how scientific but commercially oriented projects are successfully deployed. I can only thank Cellpath and Bangor University for giving me the opportunity to work with them on such a successful project."
Publication date: 4 March 2014