Welcome Week Traffic News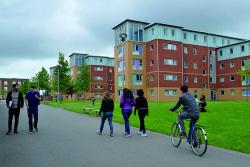 Bangor University will once again be welcoming the return of students this September.
In order to accommodate arrivals at St Mary's Student Village, in conjunction with the local council and the police, a temporary one-way system has been arranged for arriving traffic, up Lôn Bobty to the St Mary's Student Village.
Students arriving by car will be directed via Route Planner signage on the A55 to their Halls of Residence using three different routes.
Local residents are advised that there may be some traffic delays in and around Bangor over the week-end of 15-16 September as around 2,000 students arrive at the University's various halls of residence.
The Red and Green routes arrive through town from the Llandygai / Llys y Gwynt roundabout, with the Green route turning down Sackville Road for the High Street and Lôn Bopty and the Red proceeding to the Ffriddoedd Site on Ffriddoedd Road and the Blue route leaving the A55 at the Parc Menai slip road by Britannia Bridge, via Holyhead Road into Upper Bangor. Local traffic may want to avoid these routes as traffic is expected to be busy.
"To help reduce any possible traffic congestion, arrivals at the University student accommodation is split over the week-end, with the majority set to arrive on Sunday, when the roads are emptier," explains Deirdre McIntyre, Head of Residential Life at Bangor University.
As the new students arrive at their Halls, they will be greeted by their Hall Wardens who will be responsible for their pastoral care during the year. They will also be greeted by the Campus Life Crew, a group of residential students with the task of involving newcomers in a calendar of social events. Also on hand to assist new students, as they settle in to University life in Bangor, are the 'Peer Guides'; the University's second and third year students who are trained to support and guide new students as they settle in to university life.
Publication date: 11 September 2018