Project Investigators
Catriona Purcell
Ed Lockhart
Ocean-ice-climate dynamics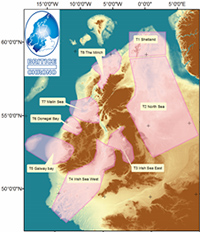 BRITICE
How can Britain help us understand West Antarctica? The places have very little in common at first sight. But if you broaden your view by some 25000 years, the likenesses increase dramatically. The West Antarctic Ice Sheet (WAIS) is showing an increasing number of signs of having become unstable, and accelerated calving of the ice can threaten our modern day coasts. In order to be able to anticipate this we need to understand, as best as we can, the process of collapse of a modest-sized, largely marine-based ice sheet that is located in a meteorologically turbulent region. And what was Britain looking like, some 25.000 years ago? It was largely covered by a modest-sized, largely marine-based ice sheet that was located in a meteorologically turbulent region. This British-Irish Ice Sheet (BIIS) clearly collapsed and vanished. So if we can understand how that happened, we have a good chance of being able to predict what WAIS will do.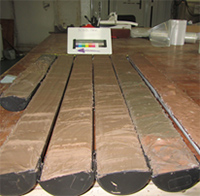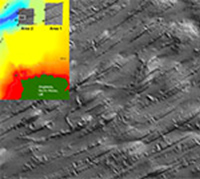 Drumlins, eskers and many iceberg scour marks on the seafloor off Anglesey, marking ice stream advance and retreat
Another advantage of working with the BIIS is that Britain has a history of geological and geomorphological fieldwork that spans centuries; the number of landforms related to this last ice sheet that have been mapped is formidable. During an earlier project, BRITICE, all this information was collated to get a solid grasp on the maximum extent of the ice sheet and its patterns of movement. In order to fully understand the evolution of the BIIS, however, one also needs to know the timing of the retreat. For this reason, the BRITICE-CHRONO project was proposed and funded. Its aim is to identify the important regions in which the retreat of the ice sheet took place, and date all the various stages of the retreat within these regions.
Within BRITICE-CHRONO, which includes researchers from many universities and other research institutes, we track down the landforms left by BIIS onshore and offshore, and date them using optically stimulated luminescence (OSL), radiocarbon, and terrestrial cosmogenic nuclides (TCN). The fieldwork of this project is done; we're now processing the material and interpreting the results. Once that process is finished glacial modellers use this new information and produce new and updated models of BIIS collapse. And when the models can reproduce BIIS, they stand a good chance of being able to predict WAIS. If all goes well, we can use British history to predict the global future.
Advance and retreat of the Irish Sea ice stream
From many sediment cores and extensive geophysical data from Liverpool Bay, we are reconstructing the evolution of past glacial landscapes in Liverpool Bay, with implications for the de-glaciation mechanisms of NW England, Wales and the entire Irish Sea.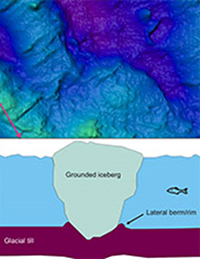 Ribbed moraines with superimposed iceberg keel marks, remnant from the last time ice retreated in Liverpool Bay