Dr Katrien Van Landeghem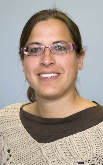 Biography
My passion for marine geology was sparked by my lecturers at Ghent University, Belgium. After studying the Gollum submarine channel system in the Porcupine Basin, I started studying and mapping the seafloor of the Irish Sea during my PhD at University College Cork (Ireland) and Cardiff University (UK). After 1 year of lecturing at Bangor University (UK), I continued to study changing seafloor morphology during a research fellowship in the University of Liverpool. Being back in Bangor University as a lecturer from July 2012, I aspire to combine geomorphological and sedimentary research, benefitting from the marine geophysical equipment on the RV Prince Madog, the sediment lab and a bridge of expertise across the various disciplines in the School of Ocean Sciences.
Research Interests
The marine environment is fundamentally defined by its climatic and hydrodynamic history. The NW European shelf sea in particular is an environment I intend to focus on for in the next few years to study fundamental glacial, hydrodynamic and sediment transport processes on the shelf and the shelf margin from the Late Quaternary up until -and including- the present-day. Tidally induced sediment transport and associated sediment wave formation and migration are still the subjects of intense scrutiny despite many decades of research. Such changes in hydrographic and seabed properties alter habitat patterns in the coastal and marine environments. These constitute a primary input to Environmental Impact Assessments (EIAs), important procedures for ensuring that the likely long-term effects of sea-level change on the marine and coastal sedimentary environments are fully understood. Additionally, sediment displacement poses challenges regarding renewable energy, aggregate extraction, fishing, habitat mapping etc. Tidal variability in shelf seas has recently gained interest in other aspects of science as it influences CO2 uptake while providing a vital part of the energy needed for the Meridional Overturning. The NW European Shelf is also a palaeo-glaciated terrain with glacial bedforms still preserved on the seabed and in the subsurface. This provides an opportunity to reconstruct the nature of glacial advance and retreat in lower latitudes, and in particular the palaeo-reconstruction in time and space of Irish Sea Ice retreat and subsequent marine transgression. The approach of combining 3D geomorphology (on land, on the seabed and in the subsurface) with faunal and sedimentological data from shallow and deeper samples can then be applied to further gain understanding on the nature and extent of the polar glacial advances and retreat mechanisms today in response to climate change and internal glacial feedback mechanisms.
Research Groups
Research Themes
Research Projects
a. Amplified Sediment Waves in the Irish Sea (AmSedIS): investigating the role of sediment granulometry and biogeochemical process on both "extreme" and "normal" sediment wave development. Funded by the European Union Seventh Framework Programme and the Petroleum Affairs Division, Ireland. Further information

b. BRITICE-CHRONO: a five-year consortium project conducting a systematic and directed campaign to collect and date material to constrain the timing and rates of change of the collapsing British Irish Ice Sheet ice sheet. Funded by The Natural Environmental Research Council (NERC). Further information
Funding history
2014 - : A new Special Interest Group (SIG) entitled "Marine Particle Flux and Morphodynamics of the Seabed", financially supported by the UK Challenger Society for Marine Science (CSMS). With Dr. Jaco Baas.
2012-2017: BRITICE-CHRONO Co-I on NERC funded Consortium project (NE/J007056/1), awarded with £3.6 million, bringing £182,495 to Bangor University. Leading applicant in Bangor University is Professor James Scourse. The Consortium is led by Professor Chris Clark (University of Sheffield).
April 2012: EUROFLEETS Award: in-kind access to marine infrastructure: "Amplified Growth of Sediment Waves in the Irish Sea (AmSedIS)": 8 days of ship time on the RV Celtic Voyager with €12000 for consumables. Additional funds for added ship time from Petroleum Affairs Division, Ireland: €16000.
May 2011-May 2012: British Society for Geomorphology Award, £944: "Delineating fields of sediment waves of various shapes, sizes and migration rates on NW Europe's shelf seabed".
2006: Bright Sparks Award: in-kind access to marine infrastructure: five days of ship time on the RV Celtic Voyager Funded through the Marine Institute (Ireland) by the Government's Strategy for Science, Technology and Innovation. This survey "Training and Research in the Irish Sea (TRIS)" documented the extremely large sediment waves in the central Irish Sea.
Publications
Peer Reviewed Journal Papers
Van Landeghem, Katrien J. J., Niemann, Helge, Steinle, Lea I., O'Reilly, Shane S., Huws, Dei G., Croker, Peter F. (2015)
Geological settings and seafloor morphodynamic evolution linked to methane seepage. Geo-Marine Letters 35(4), 289-304, DOI: 10.1007/s00367-015-0407-5
Ward, S.L., Neill, S.P., Van Landeghem, K.J.J. and Scourse, J.D. (2015)
Classifying seabed sediment type using simulated tidal-induced bed shear stress. Marine Geology, 367, 94-104
View website
Chiverrell, R.C., Thrasher, I., Thomas, G.S.P., Lang, A., Scourse, J.D., Van Landeghem, K.J.J., Mccarroll, D., Clark, C., Ó'Cofaigh, C., Evans, D.J.A. and Ballantyne, C.K. 2013
Bayesian modelling the retreat of the Irish Sea Ice Stream. Journal of Quaternary Science 28, 200-209.
Van Landeghem, K.J.J., Baas, J.H., Mitchell, N.C, Wilcockson, D. and Wheeler, A.J. (2012)
Reversed sediment wave migration in the Irish Sea, NW Europe: a reappraisal of the validity of geometry-based predictive modelling and assumptions. Marine Geology 295-298, pp. 95-112
Van Landeghem KJJ, Wheeler AJ and Mitchell N (2009)
Seafloor evidence for palaeo-ice streaming and calving of the grounded Irish Sea Ice Stream: implications for the interpretation of its final deglaciation phase. Boreas 38, 119-131
Van Landeghem, K.J.J., Uehara, K., Wheeler, A.J., Mitchell, N.C. and Scourse, J.D. (2009)
Post-glacial sediment dynamics in the Irish Sea and sediment wave morphology: Data-model comparisons. Continental Shelf Research, 29, Issue 14, pp. 1723-1736.
View website
Van Landeghem, K.J.J., Wheeler, A.J., Mitchell, N.C., and Sutton, G., 2009.
Variations in sediment wave dimensions across the tidally dominated Irish Sea, NW Europe: Marine Geology, 263, p. 108-119.
View website
Book Chapters
Robinson, K.A., Mackie, A.S.Y., Lindenbaum, C., Darbyshire, T. and Van Landeghem, K.J.J.
Seabed habitats of the Southern Irish Sea. In: Harris , P.T. and Baker E.K (Eds) (2012) Seafloor Geomorphology as Benthic Habitat: Geohab Atlas of Seafloor Geomorphic Features and Benthic Habitats. Elsevier, ISBN: 978-0-12-385140-6
Additional Publications
Van Landeghem, K.J.J., Besio, G., Niemann, H., Mellett, C., Huws, D., Steinle, L., O'Reilly, S., Croker, P., Hodgson, D., Williams, D. (2013).
Amplified Sediment waves in the Irish Sea (AmSedIS), in: Van Lancker, V. et al. (Ed.) (2013). MARID 2013: Fourth International Conference on Marine and River Dune Dynamics. Bruges, Belgium, 15-17 April 2013. VLIZ Special Publication, 65: pp. 285-290
Download PDF
PDF copies of some of these publications are available (as indicated by hyperlinks in the list) for non-commercial research and educational purposes only. You may not use the material for commercial purposes or make multiple copies without requesting permission from the copyright holder (usually the book or journal publisher).