Events
Unlocking the secret to exceptional wellbeing
31st May 2023
12.30pm – 1.30pm
Location: Online
Exploring ways you can maximise your wellbeing, this workshop delves into the strategies that support you to future proof your wellbeing. To be able to truly flourish we need to properly understand what's holding us back and what's propelling us forward. This workshop puts people back in the driving seat of managing their own wellbeing.
Summer Skills Series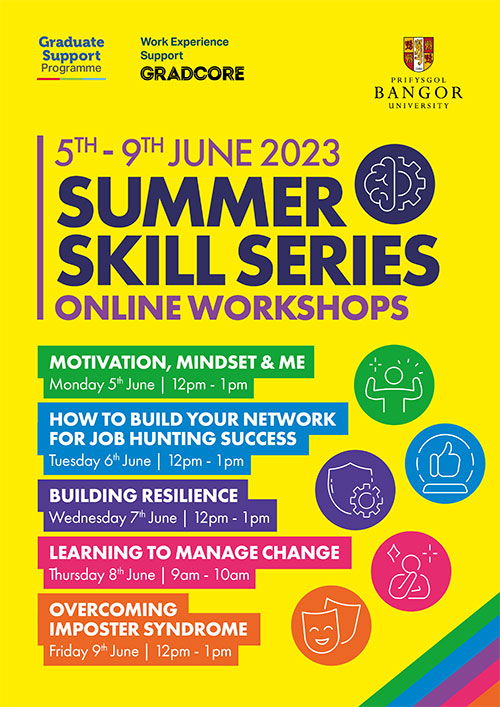 Motivation, mindset and me online workshops
Monday 5th June, 12-1pm
What career ideas do you have so far? What do you have to offer? This webinar explores how motivations can impact the career choices you make and helps you understand how being aware of your values, motivations and strengths can help you find work you love. Join to also gain practical tips to develop a growth mindset and stay motivated when job hunting.

How to build your network for job hunting success
Tuesday 6th June 12-1pm
Ever felt daunted by the prospect of networking? Ever wondered why there's so much fuss about it? This webinar will demystify networking and show you not only how useful it is in job searching and securing your next step, but just how uncomplicated it can be. Join to discover more about the advantages of networking and gain some practical takeaway tips on how to network in person and online.
Building resilience Online Workshop
Wednesday 7th June, 12:00 – 1:00pm
Resilience is an important ability to develop and demonstrate to potential employers. This webinar will define what resilience is and help you realise how important it will become as you navigate recruitment processes. Learn more about how employers measure resilience and join us to find out how you can develop and demonstrate yours.

Learning to manage change Online Workshop
Thurdsay 8th June, 09:00 – 10:00am
Change is inevitable; but how do you manage the process and why is that important to an employer? Join us to understand employer views of adaptability, flexibility and what it means to be an agile learner. Take away some top tips on developing your own learning agility and managing change
Overcoming imposter syndrome Online Workshop
Friday 9th June , 12:00 – 1:00pm
Whether you are a recent graduate, a successful CEO, or an actor famous all over the world, it's likely that you identify with imposter syndrome or will do at some point in your career. Join this webinar to not only realise how common this is; but gain some useful tips in how to develop your confidence, be successful despite it and even overcome it.
Glow Up your CV
Why not get ahead and freshen up you CV?
Book an online CV Feedback appointment via your TARGETconnect account.