What to expect at Bangor
The Careers and Employability Team here at Bangor are on hand to provide information, inspiration, resources, advice and guidance to our students and graduates, to help develop their employability and confidence, and explore, pursue and realise their career aspirations, whatever they may be!
The Bangor University community has a very strong focus on employability, from our academic programmes, to our clubs and societies, opportunities, events and initiatives. Our team support and collaborate with staff and students, the Students' Union, alumni, graduate employers, entrepreneurs, business mentors and volunteer organisations to name a few!
Information, Resources, Workshops and Events
We host a wealth of resources on our Employability Hub, including online workshops, interactive tools, student and employer videos, handouts and useful links, as well as being the home of our Employability Award.
We deliver subject-specific information sessions in the academic timetable, providing information and signposting on careers relevant to your degree subject.
We run workshops and events online and on campus, and support our various careers fairs throughout the year.
Advice and Guidance
Our Employability Advisers can provide guidance on all matters of career exploration, research and management, and offer support with CV and application feedback, interview preparation and much more.
Jobs and Work Experience
If you are keen to search and apply for part-time work before coming to Bangor, you can download our Finding Part Time / Vacation Work Handout.
Students and Graduates can use their CareerConnect account to search for part time work, internships, placements and other work experience opportunities,and local, national and overseas graduate jobs.
Our Undergraduate Internship Scheme offers all undergraduate students the opportunity to apply for a paid 80 hour internship hosted by a University department / academic school – an opportunity to gain valuable work experience and build confidence and contacts.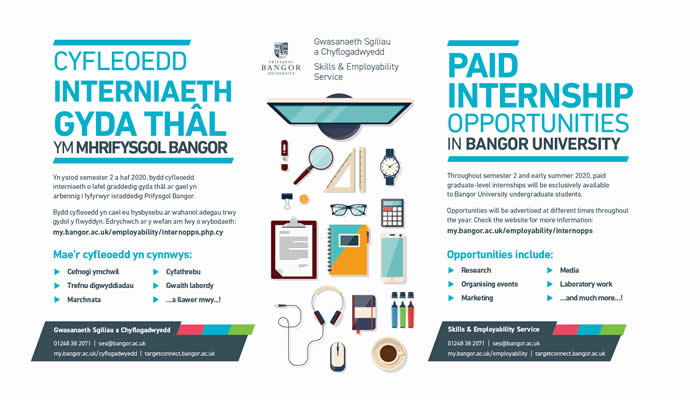 Our staff support students to find, apply and prepare for sandwich and shorter placements, if they decide to include a placement as part of their degree programme.
The Work Experience Support Team offer students experiencing barriers to employment one-to-one support in exploring, finding and completing work tasters and work experience, helping them develop their experience and their confidence.
We encourage and enable our students and graduates to explore self-employment and entrepreneurship through workshops, events, competitions and initiatives, and can offer business mentoring and start-up advice.
Developing and Celebrating Student Employability
Our Bangor Employability Award incorporates a comprehensive 'professional preparation' course, and gives formal recognition of all extra-curricular activities such as part time work, clubs and societies, volunteering and participating in events and other initiatives.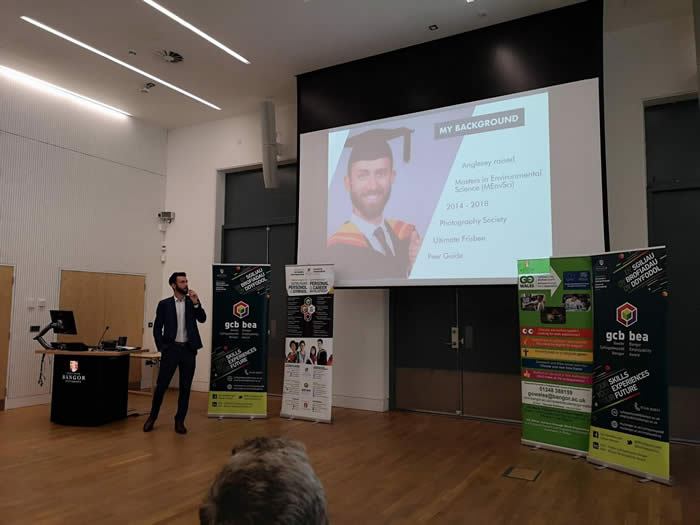 Danial, a recent BU graduate, coming back to talk about life at, and after Bangor.
Get in Touch, Keep in Touch!
You can keep up to date about our services and what we are up to by following us on social media:
If you'd like more information or would like an online demo of our password protected services such as the Employability Hub, Bangor TARGETconnect and Bangor Employability Award, we would love to hear from you – you can contact us at careers@bangor.ac.uk or follow and connect with us on social media:
Facebook: @PBcyflogadwyedd / @BUemployability
Twitter: @PBcyflogadwyedd / @BUemployability
Instagram: @pbcyflogadwyedd / @buemployability
LinkedIn: Cyflogadwyedd Prifysgol Bangor / Bangor University Employability
Updated August 2023