Three students from the State of Kuwait at Bangor University
This article is about the life of three students from the State of Kuwait at Bangor University. Abdullah Almahous, Mohammad Houtari and Abdulmusen Alajmi joined the School of Computer Science and Electronic Engineering as year 2 entry for the BEng Computer System Engineering degree in 2015/16 academic year. They successfully graduated in 2017 and re-joined the School for MSc in Electronic Engineering in 2017/18 academic year. Just like any other students, these three enthusiastic students enrolled at Bangor University with the hope of joining the elite engineering workforce upon the completion of their Bachelor and Master degrees. During the three years at Bangor University, they decided to go beyond just studying electronic engineering and establish themselves as role models for other students.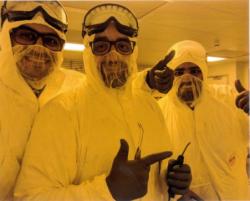 During their studies at Bangor University, they established a Kuwaiti Students Club to bring Kuwaiti students together and raise awareness of Kuwaiti culture. This club improve students experience and vision of promoting academic excellence. "Kuwaiti Students Club helped apply the rich Kuwaiti traditions of moral and intellectual learning. This also facilitated in nurturing future leaders who contribute to the global community and are proud of their identity", according to Abdullah.
https://www.youtube.com/watch?v=f1Zlput4NMo
On his experience at Bangor University, Abdullah Almahous said "Bangor University is an institution that is rich in programs which support team building, academic excellence, exploration, creativity, strong foundation for students, and friendship with moral framework among students". He was a hardworking, social, big fan of technology and always tried new ways to change the world around him through innovation. This approach allowed him to have fun, explore, and learn. He, therefore, engages in activities intended for the greater community and into neighbouring towns. He participated in charity events such as collecting furniture, money and clothes for refugees in North Wales and around the world. He also participated in other activities such as assisting new students in registration and booking accommodation. Abdullah was also involved in organising free classes and tutorial lessons to improve other students' performance. "Life at Bangor University was enriched by this experience of offering tutorials to other students, as this role has improved my communication skills" Abdullah said.
All that effort helped Abdullah to successfully find employment at Zain, one of the biggest telecommunication companies in the State of Kuwait.
https://www.youtube.com/watch?v=zz_IptNYgYY
For Mohammad Houtari, "studying Computer Systems Engineering and Master in Electronic Engineering is dream came true". Mohammad was the Chair of the first Kuwaiti Students Club in Bangor and engaged in activities such as organising events such as weekly meetings and sports.
His mission was to create awareness of Kuwaiti culture through the established Kuwaiti Students Club. Through this society, Mohammad alerted other students and organised special events such as Kuwait National Day and the annual dinner for Kuwaiti students in Bangor. He also participated in several charity events for disadvantaged people in the society. All these activities and experiences prepared him to fulfil his duties as IT infrastructure and developer for the Environment Public Authority in Kuwait, one of the biggest environmental organisations in the region.
Abdulmusen Alajmi participated in organising sports events where other students benefited from the values of hard work, selflessness, dedication, and discipline. Through this experience, Abdulmusen and other students were able to develop courage, strength, competitive intensity, mental and physical endurance. "The interest for these events was not only for development of student's potential in sports but also to instil motivation to continue with physical activity after campus life" Abdulmusen explained. His activities towards other people, including donating furniture, money, and clothes for refugees and those who are less fortunate, indicate his sympathetic character.
Abdulmusen is now employed at one of the biggest banks in the Gulf States called Kuwait Finance Bank. His experience at Bangor University prepared him to become a project manager with the responsibility of project delivery. "Bangor University enabled me develop my emotional, physical well being, academic, and social skills. These social values prepared me to become a citizen who contributes to our healthy and sustainable society."
It was a pleasure working with these fantastic individuals who made me proud of being part of their journey at Bangor University. In March 2019, I visited Kuwait with Miss Noor Alzubaidi, Regional Manager at Bangor International Education Centre, and had a great time with the Bangor alumni.
https://www.youtube.com/watch?v=JLf97hC79bA
Mohammed Mabrook
Publication date: 10 December 2019